Christmas with...Nichole Nordeman
Nichole Nordeman

2002

17 Dec

COMMENTS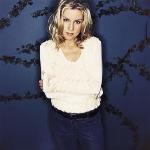 One of my favorite memories about Christmas growing up was a tradition that my mom started.
In addition to baking a birthday cake for Jesus (complete with the birthday song), she also helped us wrap an empty shoe box like it was a real present…complete with ribbons and bows and a gift tag with Jesus' name on it.  Then, she cut a small slit in the top of the box and placed it under the tree.
Everyone in the family was encouraged to write down on a small piece a paper a gift that they were going to give Jesus that year.  When I was a little girl, I wrote things like "My gift to Jesus this year is to obey my parents better when they ask me clean my room", but as I got older, my gifts to Jesus got more personal.
Each year I offered Him things like my selfishness, my pride, and my tendency to criticize others.  Then we wouldn't open it until the following year to remember and recall our gifts…and reflect on how we'd done.
I loved this tradition and plan on making it a part of my own family when God blesses our family with children.