Christy Nockels Shines on Life Light Up
Jackie Chapman

CMCentral.com

2009

4 Aug

COMMENTS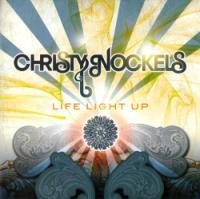 Artist: Christy Nockels
Title: Life Light Up
Label: Sixsteps Records
Nockels shines on solo debut …
To the delight of loyal fans, Christy Nockels finally makes her debut as a solo artist with sixstepsrecords, home to other Passion Conference-born lead worshippers Chris Tomlin, David Crowder Band, Kristian Stanfill, etc. She and husband Nathan (previously known as Watermark) moved to Atlanta to be a part of Passion City Church, and Christy began writing a new collection of worship songs based on her real-life worship experiences.
Life Light Up kicks off with celebratory pop anthem "No Not One" (co-written with Brandon Heath) and title track "Life Light Up," a passionate, real cry for God's fame to shine. Triumph in God's promise flows through "You Are Able" and "In Your Hands." The album is not all upbeat victories, however. Nockels explores the choice of slavery to Christ in the ballads "My Master" and "Choose." Her "Song of the Beautiful" is a haunting glimpse of a broken people crying to Savior Jesus.
She includes two cover songs, Charlie Hall's "Marvelous Light" and Brooke Fraser's "Hosanna," which she also recorded for Passion: God of This City. The opening to "Hosanna" sounds eerily like Coldplay, but the remainder of the song is a replica of the original sung by Hillsong United. Her take on Hall's "Light" is also true to the original, albeit shaped by Nockels' powerful vocals.
Chris Tomlin has said that Christy Nockels is his favorite vocalist, and it's not difficult to imagine after listening to Life Light Up. Her voice is as pure as it is powerful, beautifully matching the spirit of each song. Moreover, her convincing performances are boosted by arrangements and production that make them feel like a live event. While her work with Watermark should be remembered, Life Light Up takes her work as a worship leader to a brand-new level.

© 2009 CMCentral.com. All rights reserved. Used with permission.




Visit CMCentral.com now and join the single largest online community of Christian music fans on the internet. CMCentral features daily music news, exclusive interviews, album reviews, weekly devotions and feature articles written by some of your favorite Christian artists, and much more. CMCentral is also the home of the most popular Forum for Christian music fans that you'll find anywhere on the Internet. Come see what all the buzz is about!

**This review first published on August 4, 2009.

Watch the latest Christy Nockels music videos on her official Godtube.com artist page!