Citizen Way is Spiritually Stirring
Ed Cardinal

Crosswalk.com Contributing Writer

2013

22 Apr

COMMENTS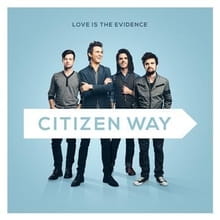 Artist: Citizen Way
Title: Love Is the Evidence
Label: Fair Trade
Coming to us from Fair Trade Services, the same record label that developed MercyMe, Laura Story, and the revamped Audio Adrenaline, new band Citizen Way is yet another act that knows how to deliver a well written, spiritually stirring song. Its debut album Love Is the Evidence may not bring big words like innovative to mind, but the hooks are solid throughout, and the lyrics often penetrate the psyche. This arrival makes sense.
Citizen Way enters the scene with an endorsement from tour mate Big Daddy Weave, which may give you a general idea of the group's sound—white guys worshiping with pop/rock sensibilities and a knack for the big chorus. That formula works nicely on opener "Nothing Ever (Could Separate Us)," an anthem born of Romans 8 and outfitted with Coldplay keys and U2 rhythm. It feels familiar but not quite played out.

Pondering authentic Christian love, the literal band of brothers (Ben and David Blascoe, Josh and Ben Calhoun) loosens up its playing on "Evidence" with a classic rock guitar riff and the simple truth: mercy and grace and compassion / they're only words without action. "All Things" is extra catchy in the wisdom it conveys about how birds live and reminds us to give thanks to the One who meets our need before we know we even need it.

Already a radio hit, "Should've Been Me" puts human sin and God's grace in stark perspective: it should've been us hanging there on a cross—a heavy message delivered with a light acoustic touch. Not too far removed from what Chris Tomlin has done before, "How Sweet the Sound" borrows from the heart of "Amazing Grace," mixes in some of Psalm 23, and becomes a potential new sing-along for the masses.

More than anything, Love Is the Evidence proves lead singer Ben Calhoun is also a standout songwriter. Deep cuts "Fall Like the Rain" and "Love Is a Mess" (a co-write with Sanctus Real's Matt Hammitt) are as immediate as the early tracks. The former has the warmth of a long established tune and in 3/4 time carries the listener through struggle toward hope. The latter is a thought-provoking sermon within itself:

Love is a mess, and life is a death / you can't escape the cost / love is a mess, the beauty of the cross
Altogether, here's evidence that Citizen Way is a band worth watching.
*This Article First Published 4/22/2013