City on a Hill - It's Christmas Time - Music Review
David Schrader

Music Reviewer

2002

19 Dec

COMMENTS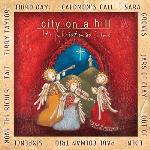 Aside from obvious differences as a Christmas project, the third City On A Hill release maintains its familiar winning premise:  a community style set of songs mostly driven by mixed and matched members of Caedmon's Call, Jars of Clay, Sixpence None the Richer, and Third Day.  And whether performing fresh or classic selections, each artist personalizes the material with trademark singing and playing that will delight die-hard fans of the intelligent faith-folk-pop-rock genre across the board.
Among the usual suspects on It's Christmas Time, Jars of Clay turns in a painfully perceptive snapshot of Mary and Joseph's likely thoughts just after Christ's birth on "Bethlehem Town," with Dan Haseltine's vocals flying higher than ever before.  The everybody-in choir pageantry of the title track is undeniably nice as well, where Mac Powell, Leigh Nash, and Cliff and Danielle Young sound as if they could be caroling beneath a streetlight outside some family's home on a snowy night.
Most welcome are contributions from the new City On A Hill participants.  Sara Groves' commanding interpretation on "Child of Love" matches the poetic depth of her most recent, critically lauded album.  Paul Colman Trio gives twinkling acoustic hope to the icily titled "In the Bleak Midwinter."  And spacey keyboards and programming bring added warmth to Out of Eden's blissfully vocalized "Do You Hear What I Hear?" 
Standard renditions of "Silent Night" (Sixpence), "Away in a Manger" (Julie Miller & The Choir's Derri Daugherty), and "O Holy Night" (Nash & dc Talk's Michael Tait) complete the set with further fine celebrations of Jesus, the only subject of this well-focused holiday highlight.  Come visit this City.
Buy City on a Hill – It's Christmas Time now at www.lifewaystores.com!