Collaboration is Key in Phil Keaggy's Inter-Dimensional Traveler
Glenn McCarty

Crosswalk.com Contributing Writer

2011

6 Jan

COMMENTS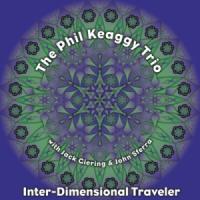 Artist: The Phil Keaggy Trio
Title: Inter-Dimensional Traveler
Label: Strobie

Phil Keaggy is one of the most celebrated guitarists in history, but he's no prima donna. That's probably the reason why Inter-Dimensional Traveler, the latest release from Keaggy, is able to be so effective. Rather than placing his formidable guitar chops front and center, Keaggy prefers to allow his work to emerge organically from arrangements which give equal time to his two collaborators.
Traveler finds Keaggy reunited with drummer John Sferra—bandmate from Glass Harp—and joined by keyboardist Jack Giering. These comprise the aforementioned trio, who produce a surprisingly brief album of enjoyable instrumental compositions. There are no extended jam sessions here, instead songs like "New Day" with a choppy bass line underscoring a smooth blend of Giering's Rhodes and Keaggy's veering guitar licks. Though the track tails off before the three-and-a-half minute mark, it could easily go double that. In this way, Traveler never feels like it's showing off. It's understated and efficient, a tidy album all the way through, from the casual playfulness of the title track to the wistful eloquence of "Porchpuppy Theme" and the robo-militarism of "Hows It Feel."

Traveler often finds Keaggy deferring to his talented bandmates, and for good reason. Sferra is as solid as they come, and Giering adds a crate full of keyboard sounds, whether it be a spacey synth, classical piano, Rhodes, or organ. It's refreshing to find a virtuoso like Keaggy taking such joy in the experience of collaboration, and it shows in the work. These songs are well thought-out, so instead of just hearing a series of look-at-me solos, one gets complex, nuanced compositions. Album closer "Alien" is filled with so many brilliant ideas, often stacked on top of each other, only a pair of headphones and repeat listens mine all the good stuff out. "Never on Time" opens with an echo pedal and a shimmering, bending keyboard before giving way to a trademark Keaggy acoustic guitar. But just as that guitar gets going, it gives way to the electric lead. One almost wishes for a mixing board to be able to solo one track at a time. But of course that would rob the joys of the final mix.
Nothing Phil Keaggy ever touches will be mailed in, and Inter-Dimensional Traveler is no exception. Reuniting with Sferra and joining forces with Giering seems to only add to Keaggy's formidable talents, producing a prized addition to his eclectic career.

**This review first published on January 6, 2011.


SEE ALSO: Reconnecting with ... Phil Keaggy