"Collide" - Music Review
David McCreary

CCM Magazine

2004

7 Feb

COMMENTS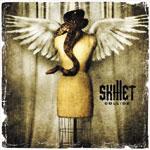 The fifth studio release from thundering rock quartet Skillet – featuring supercharged frontman John Cooper – represents an impressive sonic and lyrical maturation for the group. Whereas the band's previous musical dalliances have run the gamut from modern rock to techno to industrial, "Collide" finds Skillet entertaining a high-decibel sound that fits somewhere between alternative rock and nü-metal.
Produced by Paul Ebersold (3 Doors Down, Sister Hazel), the 10-track disc serves up sizzling fare sure to please those with diverse musical palates. Fast-burning leadoff track "Forsaken" is drenched with urgent guitar riffs, cascading percussion and Cooper's abrasive yet effective vocals. The song serves notice that there's only one way to listen to Skillet – with the volume knob cranked all the way to the right. The same goes for radio single "Savior," an adrenaline-soaked P.O.D.-esque cut that proves the band's ability to shred heavily, all the while compelling listeners to surrender to God.
But "Collide" isn't just a metal-loving feast. Several mid-tempo cuts emerge, including Skillet's first-ever love song, "A Little More," which delivers a "love conquers all" message amidst a nicely textured, even softer soundscape. Elsewhere, the sinuous rhythm of "Under My Skin" crescendos with a captivating refrain that reveals a deep dependency on the Savior ("When I hurt, when I bleed, you're holding me").
Perhaps the CD's finest delicacy is the scorcher "My Obsession," weighing in with the requisite primal screams, crunchy axe work and an entrancing, distorted coda. It's emotive without being irate – a laudable achievement in a genre often filled with turmoil.
Thematically, Skillet ambitiously tackles a number of weighty subjects such as teen suicide ("Imperfection"), spiritual brokenness ("Fingernails") and fear ("Collide"). The band should be commended for intelligently addressing these subjects and for wisely avoiding the clichés often employed by well-meaning believers.
While this album lacks the cohesiveness of Skillet's earlier recordings, it never seems deficient in focus or direction. Whether it's the simple beauty of the title track's string-imbued intro or the near-shrieking rants of "Energy," "Collide" achieves what fewer albums seem to accomplish nowadays: It leaves listeners wanting more.

© 2004 CCM Magazine. All rights reserved. Used with permission. Click here to subscribe.

Take a minute to watch Skillet music videos at Godtube.com.