Conference, Worship Band Inspire Generation Unleashed
Kevan Breitinger

CMCentral.com

2008

11 Feb

COMMENTS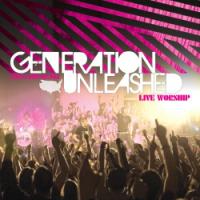 Artist: Various
Title: Generation Unleashed
Label: Maranatha Music
Generation Unleashed is actually the name of several things. One of them is an annual conference for teenagers and their youth pastors in Portland, an outreach of Portland's City Bible Church. Similar to the Passion youth conferences, this past year's hosted over 8,000. It is also the title of the album capturing 13 live tracks from the conference worship band, led by Donna Lasit, Jeremy Scott, and Jordan Flip. And it is an edgier Maranatha than we're used to, for sure.

The crowd's enthusiastic energy adds a rock edge from the disc's opening moments, before the guitar-driven anthem "Always" kicks things off to an upbeat declaration of commitment. "He Lives" is another declarative song, laced with lashing guitars and hard-driving rhythms. Its lyrics are a bit simplistic, but it is a congregational song after all, written to express worship in a group. "Saved My Soul" is a bit more ambient, with its glimmering keys and intuitive rhythms.
Keyboardist Donna Lasit takes the vocal lead for "All Things Through Christ," a dramatic piano ballad. It must be said that on this track and others, her vocal is a bit off-key, but her passion is right on the money and the crowd follows her eagerly to the throne room. The band's rhythm section doesn't give an inch, especially noteworthy on the jangly pop-rocker "King of All" and through the thick worship of "Something in My Heart." The standout track is the sharply staccato, anthemic "Shout It Out," as irresistible on a disc as it is to the crowd, thanks partly to the mid-track electric guitar solo.
Another must-mention is the melodic song of deep spiritual desire, "Shine," destined to be a Sunday morning classic. The ambient "All That I Need" manages to be gently worshipful without falling into over sensitivity. And thick guitars add oomph to the familiar closer "I Love You Lord." All in all, not a bad unleashing.




© 2008 CMCentral.com. All rights reserved. Used with permission.



Visit CMCentral.com now and join the single largest online community of Christian music fans on the internet. CMCentral features daily music news, exclusive interviews, album reviews, weekly devotions and feature articles written by some of your favorite Christian artists, and much more. CMCentral is also the home of the most popular Forum for Christian music fans that you'll find anywhere on the Internet. Come see what all the buzz is about!