Contemporary Worship Flows on Make You Known
Kevan Breitinger

CMCentral.com

2007

15 Nov

COMMENTS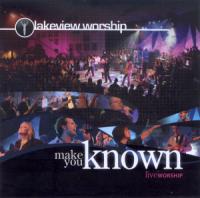 Artist: Lakeview Church
Title: Make You Known
Label: Integrity Worship
Founded in 1918, Lakeview Church in Indianapolis has a rich heritage of revival and multi-generational worship. Nathan LaGrange, Erik Cooper and the Lakeview worship team lead an enthusiastic congregation through 12 original songs of adoration and spiritual declaration, all of them Sunday morning-oriented and extremely sing-able.
Make You Known flows very much in the tradition of Integrity's original worship series, with a slight contemporary edge. Many worshippers have come to prefer their worship projects headed by a single artist, but if you like live congregational worship experiences, this is definitely one of the better collections.
Slammin' percussion and lashing guitars set an immediate tone of energetic worship as "Your Love Is Better" opens, and "Live It Loud" carries it on, calling us to live like the Lord is coming back today, as the worship leader shouts out encouraging Scriptures in the breaks. "How Can I Not Sing?" features thick vocals and deeply worshipful lyrics over dynamic keys. The tempo slows down with "All Over This World," and the absence of a front leader is quickly more obvious; one vocal does comes out front for the lovely, airy bridge, and it is a welcome addition.
Opening with some gentle call-and-answer, the very sing-able "No Greater Thing," rich with guitar noodling, is simply but powerfully structured for greatest impact, making it an album standout track. Acoustic percussion adds texture, while the emotional levels ebb and flow from passionate crescendo to reverent stillness to finally free-flowing celebration, quite effective. Another extremely engaging congregational track is the upbeat, melodic "I Want to Be with You," while the quietly acoustic "Surrender" positively drips with sincerity. The nuanced "Hallelujah" is another track of interest, building organically from quiet programming moments to a passionate outpouring of praise. The title track closes out the worship project, quietly pulsating over glimmering guitars and deeply fervent vocals.
Worship leaders will take special pleasures in Make You Known, finding its original worship songs rich fodder for churches everywhere.
© 2007 CMCentral.com. All rights reserved. Used with permission.



Visit CMCentral.com now and join the single largest online community of Christian music fans on the internet. CMCentral features daily music news, exclusive interviews, album reviews, weekly devotions and feature articles written by some of your favorite Christian artists, and much more. CMCentral is also the home of the most popular Forum for Christian music fans that you'll find anywhere on the Internet. Come see what all the buzz is about!