Crabb Family "Blur the Lines" in More Ways Than One
Brenten Gilbert

CMCentral.com

2006

25 Apr

COMMENTS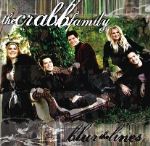 Artist:  The Crabb Family
Title:  "Blur the Lines"
Label:  Daywind Records
Music has gotten so diverse these days that it's sometimes difficult to appropriately classify what style or genre you're listening to.
Whether it's simply that everyone is trying to have a unique sound or that they each have a wide ranges of musical influences, it seems like more and more, music stretches the boundaries of the predefined definitions that we've grown accustomed to labeling them with. As more groups and artists transcend these boundaries, the result is a sound that reaches beyond stereotypes and attracts members of a number of preciously distinct demographics, combining audiences and bringing together a diverse group of listeners.
One such example of this trend is "Blur the Lines," the latest release from one of Southern Gospel's most popular groups, The Crabb Family. Reaching a wider audience than traditionally expected of a Southern Gospel group isn't exactly a new thing for The Crabb Family as they've become quite popular within the Christian music community on the strength of their two recent releases "Driven" and "Live at Brooklyn Tabernacle." "Blur the Lines" finds the group belting out twelve songs that will be familiar to many fans of popular Christian music with a sound that displays hints of southern gospel, country, and pop.
Even the types of songs on the album offer a range of stylistic preferences. Included in the mix are hymns, praise choruses, inspirational ballads and traditional gospel songs. While not completely abandoning the southern gospel sound entirely, the album certainly takes a step in the direction of the pop sound that's worked so well over the last year or so on the increasing number of hymns projects. In fact, songs like "I Go to the Rock" and "Nothing But the Blood" are quite reminiscent of renditions presented by Jars of Clay and Bart Millard last year. The injection of praise choruses such as "Shout to the Lord" and "Friend of God" (also presented in Spanish) as well as the traditional gospel tunes including the Andraé Crouch classic "Can't Nobody Do Me Like Jesus" gives the album a more distinct feel.
Overall, "Blur the Lines" proves to be at times a rather enjoyable album. The album shows how accessible The Crabb Family, their music, and their musical influences can be beyond the realm of the Southern Gospel genre. "Blur the Lines" should continue to expand the audience of The Crabb Family as it allows them to reach past the traditional confines of musical boundaries.


© 2006 CMCentral.com.  All rights reserved.  Used with permission. 

Visit CMCentral.com now and join the single largest online community of Christian music fans on the internet.  CMCentral features  daily music news, exclusive interviews, album reviews, weekly devotions and feature articles written by some of your favorite Christian artists, and much more.  CMCentral is also the home of the most popular Forum for Christian music fans that you'll find anywhere on the Internet.  Come see what all the buzz is about!