Creativity, Not Charisma, Lacking on Michael Bublé's Latest
Christa Banister

Crosswalk.com Contributing Writer

2013

3 May

COMMENTS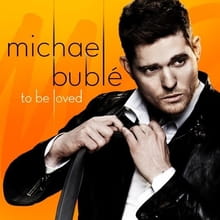 Artist: Michael Bublé
Title: To Be Loved
Label: Reprise
Considering that To Be Loved is currently the #1 album on Billboard's Top 200 list, there's no question that Canadian crooner Michael Bublé's smooth, Sinatra-esque vocals have a wide range of appeal.
And on his seventh studio album, the father-to-be doesn't deviate much from the formula that helped win over the masses. Combining four self-penned originals with 10 covers including tracks that made ol' Blue Eyes himself famous, namely "You Make Me Feel So Young," "Come Dance With Me" and "Young At Heart," Bublé is clearly embracing the whole if-it-ain't-broke-don't-fix-it mentality.
The trouble with To Be Loved isn't a lack of charisma (Bublé has that in spades), it's creativity. While a few of the arrangements, particularly on "Have I Told You Lately That I Love You" and "Nevertheless (I'm In Love With You)," which features the energetic Puppini Sisters, have flashes of fresh inspiration, most of Bublé's choices aren't much of an artistic stretch. In a word, To Be Loved is a bit of a snooze.
In fact, most of the material has a stale, been-there-heard-that vibe. While there's nothing wrong with Bublé's rich vocals per say, there's just something in the delivery that sounds a bit phoned in. In fact, it's only during "It's a Beautiful Day" where you get the sense that Bublé is stretching out of his comfort zone. A perfect pop song you could see as the backdrop for a modern romantic comedy, it's what the listener envisions when they hear that Michael Bublé is making a new record.
SEE ALSO: Jesus Culture - Come Away (Official Music Video)
The rest, especially the embarrassingly bad duet with actress Reese Witherspoon on "Something Stupid," is just a reminder that while Bublé may borrow a lot of his source material from Sinatra, he's still got a lot of territory to cover before being crowned the "New Sinatra."
Even Bublé's elder Harry Connick Jr. who also borrowed a move or two from Sinatra's playbook has his own thing going—and with a voice like his, he could've easily cruised by on covers. The same can't be said for Bublé who could stand to freshen up his act.
*This Review First Published 5/3/2013