David Crowder Band Dismantles on "Sunsets & Sushi"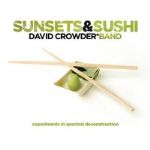 Artist: David Crowder Band
Title: "Sunsets & Sushi: Experiments and Spectral Deconstruction"
Label: sixsteps/Sparrow
Modern worship purveyors the David Crowder Band bring 21st century technology to the forefront on this unconventional, eight-song remix project. "Sunsets and Sushi" dismantles tracks from the sextet's 2003 "Illuminate" album and reassembles the material into something Joy Electric or New Order might covet.
The current disc showcases newly interpreted, electronica-driven versions of previous standouts including vertically oriented songs "O Praise Him (All This for a King)" and "Revolutionary Love." Continuing to siphon from M-Audio/Propellerhead Reason software, Crowder further extrapolates on the electronic sequencing and sampling techniques used to record Illuminate.
By and large, the retooling experiment succeeds, especially when it comes to the mesmeric intonations of synth-heavy numbers like "No One Like You " and "Open Skies. "
A few moments surface when listeners may wonder what chemicals got spilled in the process. To wit, the droning beats of "Intoxicating" sound like the Human League on Paxil. Then there's mid-tempo cut "Deliver Me, " which possesses abundant spiritual depth yet lacks sonic intensity.
Those searching for an aural experience that pushes the boundaries of contemporary praise should find enough to satisfy here, as will readers of Crowder's first book, "Praise Habit: Finding God in Sunsets and Sushi" (NavPress), releasing concurrently with the CD.

© 2005 CCM Magazine. All rights reserved. Used with permission. Click here to subscribe.

Check out David Crowder Band music videos at Godtube.com!