David Crowder Band's "B Collision" Worth Encountering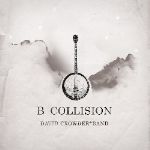 Artist: David Crowder Band
Title: "B Collision"
Label: sixsteps/Sparrow
There's a reason the collegiate set and scores of millennials flock to David Crowder Band's music: the six-piece modern worship act pushes the boundaries of sonic creativity, perhaps more than any other Christian artist.

On the heels of the group's GMA Music Award-winning CD, "A Collision," comes that project's truncated offspring, essentially a seven-song EP aptly titled "B Collision" because, in the words of Mr. Crowder, "B follows A."
While a convincing argument could be made that every Crowder release is experimental at its core, "B Collision" certainly fits alongside previous unconventional works such as "The Lime CD" and "Sunsets & Sushi." And, while "B Collision" is by no means a remix record, the album largely showcases acoustic-based versions of songs from the full-length parent recording.
It's important to point out that there's no room to sit on the fence with Crowder's latest endeavor. Either you'll find it the most eclectic and clever piece of work to emanate from your iPod in recent memory, or you'll absolutely hate it. That's both the ingenious beauty and the incredible risk Crowder offers here; but it's likely this virtuoso outfit will only broaden its already loyal fan base.
Listeners with an affinity for bluegrass will find much to appreciate (the album's subtitle is "The Eschatology of Bluegrass"), as Crowder provides fresh and intimate renditions of the baker's half-dozen selections. The bulk of the material was recorded in the barn behind Crowder's house in Waco, Texas, where the band broke out banjos, violins and acoustic guitars to produce astonishingly simple constructions of songs such as "Beautiful Collision" and "Everybody Wants to Go to Heaven." On standout track "Wholly Yours," somehow, almost inexplicably, Crowder's understated vocals coalesce with inconspicuous instrumentation and modest programming to create an enduringly serene experience.
Captured during a performance in Kansas, closing numbers "Be Lifted" and "I Saw the Light" feature special guests Robbie Seay Band and Shane & Shane. These tracks are far and away the most up-tempo of the set, and they serve notice to listeners that Crowder renders yet another collision worth encountering.


© 2006 CCM Magazine. All rights reserved. Used with permission. Click here to subscribe.





Check out David Crowder music videos at Godtube.com!