Day of Fire Offers "New Rock" to Get Fired up About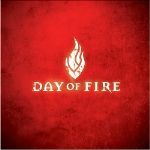 Artist:    Day of Fire
Label:    Essential

One doesn't need the team from TV's "What Not to Wear" to know that if the jacket no longer fits, stop wearing it. Such was the case for rock front man Joshua Brown, a passionate vocalist who earned mainstream acclaim with his Island/Def Jam band Full Devil Jacket. Before breaking up in 2000, Full Devil Jacket dropped two major label albums and toured with Creed, Nickelback and Fuel. In pursuing the rock dream, Brown's lifestyle began swirling downward toward new lows, including a drug overdose. Brown then came to faith, put the "Devil" behind him and spent the next two years focusing on his spiritual growth.
Of course, a born songwriter can't stay quiet forever; so, after a healthy hiatus, Brown started Day of Fire with guitarist Gregg Hionis in their Jackson, Tenn., hometown.
Bringing mainstream know-how to the Christian market, Day of Fire's self-titled album features accessible rock songs such as "Through the Fire," "Time" and "Jacob's Dream" — all with medium tempos, gritty vocals and a respectably polished heaviness. While these songs will anchor the devout rock fans, Day of Fire exudes the most personality when the guys up the energy for "I Am the Door" and "Reap and Sow," incorporate strings for "Rain Song" and juice their acoustic guitars on "Cornerstone." Yet, for all the album's solid performances, one wishes the band avoided the utterly predictable, such as sampling a ticking clock in "Time" and a thunder roll in "Rain Song." But, then again, commercial rock does need its clichés.
As a whole, however, these firebrand rockers breathe new life into Christian rock while offering the telling testimony of why Brown shed his "full devil jacket." Now if only the band could convince all those '80s holdouts to ditch their "Members Only" jackets!

© 2004 CCM Magazine.  All rights reserved.  Used with permission.  Click here to subscribe.