Dc Talk's "Jesus Freak" Still Great a Decade Later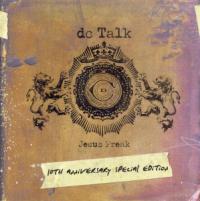 Artist: dcTalk
Title: "Jesus Freak (10th Anniversary Special Edition)"
Label: Forefront
It's difficult to overstate the impact of dcTalk's 1996 benchmark album, "Jesus Freak." The disc broke all kinds of sales records for a rock/alternative album in the Christian market, stole Dove Awards like a kid in a candy store and dared to reach beyond the confines of the church with the charting hit "Between You and Me."
The title track became an instant anthem, and it is likely the ensuing "Age of Rock" (Third Day, Audio Adrenaline, Jeremy Camp, etc.) in Christian music can be traced to this one monolithic event album. It's been 10 years since "Jesus Freak" busted up the joint, and this 10th Anniversary Special Edition is a great revisit of this epic release.
The project starts with a newly re-mastered copy of the original disc in all its glory. In this case, the re-mastering definitely brings out a better tone overall. Surprisingly, "Jesus Freak" stands up remarkably well over the years. Maybe it's the plethora of cross-genre hybrid acts like Smashmouth and Black Eyed Peas that have dominated radio and film soundtracks in recent years, but this set of songs sounds more in step with the mainstream music scene now than it did in 1996.
The "Bonus Disc" features 14 songs comprised of various old and new remixes of "Jesus Freak" tracks, and live cuts from the "Freakshow Tour." The remixes really re-invent the songs from the ground up, often to great effect. Though not included in this set, throw in the recent Gotee Records tribute album, "Freaked," from earlier this year and you will have a great retrospective on a truly classic record.


© 2007 CCM Magazine. All rights reserved. Used with permission. Click here to subscribe.