Deas Vail's Birds & Cages Worth the Wait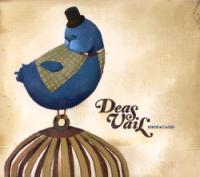 Artist: Deas Vail
Title: Birds & Cages
Label: Mono Vs Stereo

Near perfect piano pop record …

From the opening falsetto and smart pop hook of "The Things You Were" through the somber piano refrains of "Atlantis," Deas Vail makes good on every ounce of potential displayed on their debut and then some.

For those acquainted with All the Houses Look the Same, you'll most likely remember the epic rock tendencies and early Sleeping At Last comparisons. Then came the White Lights EP, which found some Brit-rock flair and Death Cab leanings breaking through. Now, Birds & Cages continues to fling open doors of musical comparisons, yet the cohesive product is entirely an enjoyable affair all its own.

Vocalist Wes Blaylock is the glue holding all these sounds together. Picture Lovedrug's Michael Shepard without the edge, since Blaylock's tenor is silky smooth. "Cages" features original guitar work before breaking into a Myriad-esque pop structure. "Birds" brings back the piano front and center with an intriguing minor chord progression. Blaylock's voice truly mesmerizes on this compelling tune.

"Sunlight" and "Growing Pains" ramp the tempo with tense percussion, while "Puzzles and Pieces" and "The Leaper" sway the other direction. Yet no matter the track, every single slice of this aural dessert is absolutely delicious. The wait has been worth every second.

© 2010 CCMmagazine.com. All rights reserved. Used with permission.

**This review first published on March 4, 2010.