Decyfer Down's Debut Predictable, Unfulfilling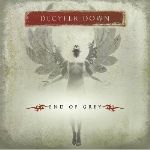 Artist:  Decyfer Down
Title:  "End of Grey"
Label:  Columbia/S.R.E.
Hard rock newcomer Decyfer Down emerges from North Carolina with "End of Grey," a 10-song mix of nu-metal riff rock and power ballads that covers the musical path of bands like Staind, Limp Bizkit, Day of Fire and others.

On "End of Grey," fully six of the album's 10 songs employ an almost identical riff, with the lyrics failing to help the listener decipher one from another. The production on these songs tends to work in variations of "loud" – so much so that dynamics become an irrelevant component.
 
The album kicks off with three full-throttle riff-rockers ("Fight Like This," "Break Free" and "Life Again") with similar arrangements. Only "Life Again" is distinguished with an '80s-inspired metal guitar solo to interrupt the drop-D assault. From there, the first of the album's three power ballads, "Burn Back the Sun," enters with one of the more relatable lyrics and strongest musical hooks on the disc. Then it's back to riff city with a couple slower jams thrown in the mix.
Decyfer Down's lyrical topics stay close to generic themes of searching, facing fears and battling with self and pride. All of these are common experiences and struggles, and yet nowhere on "End of Grey" do they lend greater insight or transparency to these themes than have been offered by dozens of forebears. In the case of "Walking Dead," there is the harrowing suggestion that Christ "pull the trigger" and "stab it deeper" in order to do away with self and live full in Christ. The metaphor, surely intended to lend a different and graphic view, ends up sounding like little more than a bold line written for shock value.
 
There is a monotony in Decyfer Down's debut that makes the listening experience predictable and unfulfilling. Hopefully, the band's increased tour schedule and the influence of their more experienced tour mates, such as Pillar, Skillet and Day of Fire, will sharpen Decyfer Down into their own band and not a catalog of others' components.


© 2006 CCM Magazine.  All rights reserved.  Used with permission.   Click here to subscribe.