"Deeper Life" - Music Review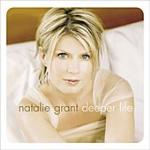 Artist: Natalie Grant
Label: Curb Records

Natalie Grant is too talented to have already been plagued with two failed record labels; and "Deeper Life," her third album, shows us why. For starters, Grant co-produced the album and also wrote a good chunk of her material.
And then there are her soaring yet intimate vocals, tinged with just enough R&B flavor to keep things interesting.
When Grant signed with Curb, rumors flew that she was going to "cross over" to pop music, but "Deeper Life" shows little hint of such intent. In fact, the title track finds Grant singing "I won't be swept away by every changing tide/ I believe in the deeper life."
The sassy Latin number, "Love Without Limits," reads like the end of Romans 8, while the first single, "I Will Be," finds Grant vowing to be "The hand of heaven above/ A mirror that reflects Your endless love/ Hope among the hopeless."


Used by permission. CCM Magazine © 2003 Click here to subscribe.
Watch the latest Natalie Grant music videos on her official Godtube.com artist page!