Desiring God – Music Review
Christa Farris

Music Reviewer

2003

13 Feb

COMMENTS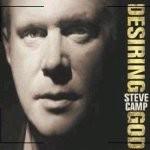 Artist:    Steve Camp
Label:   Audience One/Discovery House
Inspired by John Piper's groundbreaking book of the same title, industry vet Steve Camp's return to recording on Desiring God yields rather lackluster results.
While Camp poses some interesting questions during the opening track "Why, Why, Why," the complicated play on words and lame rhymes simply don't add up to a good song:  "Whole generation lost to AIDS and cocaine/Why, why, why/People believe they die and come back and live like Shirley MacLaine/Why, why, why."
While the musicianship is adequate with a group of Nashville's musical elite, the album's lyrics pose many awkward moments.  In "Head of a Broken Home," listeners can certainly appreciate the honesty Camp expresses about his recent divorce.  But listening to the song feels like you've unintentionally opened his private diary.  Instead of simply laying it on the line, you wish he'd exercise a little poetic license—a quality that would have added more interest—and less preachy tendencies to his entire project.
Used by permission.  CCM Magazine © 2003  Click here to subscribe.