"Destination: Beautiful" - Music Review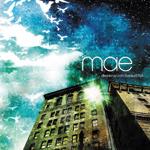 Artist:   Mae
Label:  Tooth & Nail Records

The debut from this Norfolk, Va.,-based quintet is a promising serving of modern pop/rock aimed at the stars. Youthful and optimistic, Mae hangs its substantial vocal hooks on the wavering voice of Dave Gimenez, while shimmering guitars and a solid back beat combine to create the impression of tentative confidence. Given the state of the world, this mix of caution and hopeful wonder makes sense.

Moving forward with "All Deliberate Speed," the songs' progression pauses when forgiveness is needed in "Embers and Envelopes." Mae's intelligent pop is immanently tuneful, suggesting the kind of lyrical depth that invites reflection. It would benefit from big-budget production values but having achieved a level of sophistication, it remains impressive.
Used by permission.  CCM Magazine © 2003  Click here to subscribe.