DJ Maj Bridges the Culture Gap on Fourth Disc, "BoogieRoot"
Chris Well

2005

23 Sep

COMMENTS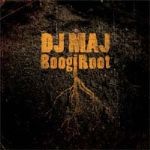 Artist:  DJ Maj
Title:  "BoogieRoot"
Label:  Gotee Records
Even a few years ago, it was hard to find artisans in the Christian hip-hop community who had a voice in the culture. It's not that the talent wasn't there – the machinery to get the music to the masses was shaky and unproven.
But progress has been made these past few years, thanks in large part to people like DJ Maj, who has made a career not as merely an artist himself, but as a facilitator for others to shine. And with his fourth album, a hip-hop confection titled "BoogieRoot," we find DJ Maj still serving as host for a variety of special guest rappers and vocalists and still building bridges – lyrically, musically and spiritually.
Maj sets the stage nicely with the lively "Rated R," celebrating the growing influence of rap as an art form but making a specific point that it's all about Jesus ("the secret of the BoogieRoot is the grave empty").
From there, "BoogieRoot" sports a variety of tones and styles. The funky "uAppeal" tips the hat to the pioneers of rap. The guitar rocker "H.A.N.D.S." encourages listeners to lift their hands to the Lord. The eerie "Can't Take It All Away" is a poignant realization that God is involved in the world even when we choose not to see Him. Artists who make guest appearances on the project include Michael Tait, L.A. Symphony, KJ-52 and tobyMac.
The highlight of the album is the sweet and moody "Soul Window." Joined by the silky voice of Bermudian gospel singer Ayiesha Woods and the smooth MC stylings of M.O.C. (Mind of Christ), DJ Maj extols the peace that comes from having Christ inside.
In all, "BoogieRoot" excellently bridges the gap between the hip-hop underground and the rap stylings co-opted by the pop culture at large. On whichever side of the divide you live, there's something tasty for you here.

© 2005 CCM Magazine.  All rights reserved.  Used with permission.  Click here to subscribe.