DJ Maj: The Mystery of Maj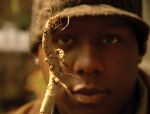 You can't change an institution, so you have to find a way to make the institution work for you," says DJ Maj, the innovative hip-hop pioneer who introduced Christian music to such institutions as the mixtape. "We have to meet all these media-related outlets where they are, and I really think my new album is going to be more friendly to radio and retail."
For years Maj, whom tobyMac calls his deejay of choice, has helped increase the credibility of Christian rap. Dropping his first mixtape in 1997, Maj followed with three albums for Gotee Records – 2000's "Wax Museum," 2001's "Full Plates" and 2003's "The Ringleader" – that displayed his skills as a deejay, producer and remixer. Many of the industry's top names lent their talents and tracks to his albums, though the deejay made only sporadic trips to the mic himself. With his latest, "BoogiRoot," Maj is ready to turn the tables back in a whole new way.
"This record has all the guest appearances of the mixtapes," he notes, "but when I started collecting tracks and laying down ideas, I actually did the vocals myself to show the rapper or singer what I wanted. One verse led to another, and ultimately it led to a full DJ Maj album."
Though "Ringleader" featured just three songs with the deejay's flow, "BoogiRoot" only has one song ("Rhyme Pocket Interlude" featuring Verbs) without Maj's rhymes. He continues, "I'm not trying to say, 'Here I am, look at me.' It's more my contribution to people. I've been through some things that I can hopefully use to enrich people's lives. This record is truly my heart because I'm holding my chest open and allowing people to look inside. Instead of just giving a track to another artist and asking him or her to elaborate, this record gave me the opportunity to put my own spin on it, no pun intended."
This organic change actually mirrored what many of his fans had wanted for years. As an artist and the host of "Virtual Frequency," the popular nationally-syndicated hip-hop radio show, Maj built up a following, but his fans wanted his discs to be more than just a "who's who" of hip-hop.
Maj explains, "There were people buying the records asking, 'Who's the guy on the front cover, and where is he on the album?' The mixtape concept took people a little while to understand, and it was more an educational 'DJ Maj Presents' type of thing. Over time, people wanted to know who DJ Maj the person is, and this album fits that need."
Besides giving a better look at Maj, the new disc also delivers his most commercial material to date. The album obviously features the brilliant street-style tracks "Up All Nite" with LA Symphony and "uAppeal" with manChild and Special ED, but "BoogiRoot" also includes radio-ready numbers "H.A.N.D.S." with Michael Tait, "Can't Take It Away" with tobyMac and the lead single "Love (So Beautiful)."
"I wanted people to know that there's more to Maj than someone who can stand behind the turntables or host a show," he remarks. "I believe I've been given a platform solely for the purpose of touching lives, and I want to use it in every way, shape and form possible."
DJ Maj was raised in Louisiana, a state known for such prominent hip-hop crews as the Cash Money Millionaires (Lil' Wayne, Baby, Juvenile) and the No Limit Soldiers (Master P, Lil' Romeo, Silkk the Shocker). Though Maj's style doesn't reflect their "Dirty South" sound, he certainly adopted their tireless indie work ethic. Making a name as a party and mixtape deejay, Maj went to Nashville in 1992 for some studio work (including recording with dc Talk) and eventually made Music City his new home. More so than his native Lafayette, the city of Nashville drew lots of tourists and transplants that ultimately gave Maj a better national view of budding hip-hop trends. Interestingly, it's this insight that helped shape one of "BoogiRoot"'s major themes.
He says, "The very last interlude on the record talks about the state of hip-hop and the need for something pure. Hip-hop today resembles glam rock [in the '80s] when everything was about materialism. I want to put something positive into the culture. I think it's all about to change, and I believe 'BoogiRoot' is a part of that process."

© 2005 CCM Magazine.  All rights reserved.  Used with permission.  Click here to subscribe.