Draw Near - Music Review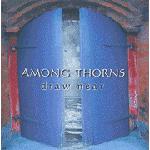 Artist:   Among Thorns
Label:  Worship Extreme
Draw Near is the third recording for worship band Among Thorns, but it's the group's first effort with new singer Chad Jarnagin—and the result is mixed.
Though the energetic pop tunes and sincere vocals on songs like "Invitation" and "I Can't Deny" are enjoyable, songs like "Rescue Me" feel like re-treads and lack the lyrical depth the listener might hope for on a worship CD.
Oddly enough, the strongest cuts are buried toward the end of the CD with the final four songs.  On tunes like "Falling at Your Feet" and "We Run to You," the reflective acoustics and powerful words blend together perfectly and showcase the band's potential.
Used by permission.  CCM Magazine © 2002
Buy Draw Near now at www.lifewaystores.com!