"Edgier" Point of Grace Emerges on "I Choose You"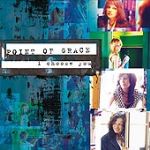 Artist:  Point of Grace
Label:  Word
With more than five million albums sold and 24 consecutive No. 1 singles, Point of Grace could easily have become essentially a parody of themselves: peppy, poppy and always positive. Instead, after three years, the foursome is back with an adventurous new studio project. New member Leigh Cappillino is along for the ride, having replaced founding member Terry Jones, who left the group a year ago to spend more time with her family. Though POG fans will always have a special appreciation in their hearts for Jones, Cappillino is, thankfully, more than up to the task of filling her shoes.
Simply put, "I Choose You" is the best album Point of Grace has ever done, with apologies to its delightful (and now, near-classic) "A Christmas Story." Though consistently underestimated by critics, the group has, nonetheless, amassed and nurtured a massive fan base that will, doubtless, be thrilled with the changes in the group's sound.  There is a new edge, a new life and a new energy in the girls' music that deftly manages the difficult task of freshening up their sound to engage new listeners without going so far as to alienate the existing fan base. The project's producers — Brent Bourgeois (Jaci Velasquez, Sixpence None the Richer), Mark Hammond (Cindy Morgan, Al Denson), Wayne Kirkpatrick (Amy Grant, Michael W. Smith) and David Zaffiro (Kim Hill, Whitecross) — do a fantastic job of stretching the group vocally and musically without making them into something they are not.
One of the biggest highlights is the title cut (featuring Denise Jones on a gutsy lead vocal), which reminds us that our ultimate allegiance belongs only to God. "Down" takes a tag-team vocal approach that is surprisingly aggressive, while "Who Am I" features gorgeous harmonies as it rhetorically asks, "Who am I to understand Your ways, who am I to give You anything but praise?" Moments like these make it clear how far the Point of Grace members have come: They're unafraid to ask questions yet continue to embrace their faith in the midst of those ambiguities.
The album wraps up with three more contemplative numbers: "Waiting in the Wings," which reminds us "Though God is out of sight, He's working in the middle of all things"; the contemporary yet hymn-like "For All You've Done"; and the uplifting "This Is Your Land," which is preceded by a narrated reading from the spiritual classic Pilgrim's Progress.
If "I Choose You" is any indication, after 10 years, Point of Grace has only just begun.

© 2004 CCM Magazine.  All rights reserved.  Used with permission.  Click here to subscribe.