Edison Glass Stretches Beyond Emo With "A Burn or a Shiver"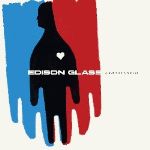 Artist: Edison Glass
Title: "A Burn or a Shiver"
Label: Credential Records
Long Island natives Edison Glass blend elements of '70s progressive rock, '80s new-wave and alternative pop and '90s experimental jams and "emo" (emotional) to great effect on their Credential Records debut, "A Burn or a Shiver." Musically intricate, melodically evocative and lyrically challenging, Edison Glass may be the most artistically exciting project to emerge yet this year.
Having honed its skills in the clubs and sanctuaries of the New York City area, the band manages the rare feat of crafting songs that are musically complicated and rhythmically varied yet completely accessible. Where traditional emo bands plied repetitively simple or self-indulgently complex patterns, Edison Glass seems always in service to the song at hand. At times reminiscent of The Police and at others in the fully modern alternative realm of Jimmy Eat World or The Promise Ring, Edison Glass manages to contribute something of significance to the seemingly doomed emo train a few years after the genre's peak. Fortunately for the band, and the listeners, "A Burn or a Shiver" stretches well beyond the emo rut into an interesting new musical environment.
With production by scene-hero Brad Wood (Sunny Day Real Estate, Smashing Pumpkins) and a major label debut that follows seven years on the indie circuit, Edison Glass never comes off as a new band. The sound of countless gigs and rehearsals echoes through each song, and the confidence and sense of self that can only come from experience are evident in everything from the bold lyrical approach to the diverse musical palette. Where classic emo bands were often known for lyrical obscurity or painfully self-focused navel gazing, Edison Glass manages to ask some of the most difficult questions of life within the context of a firmly articulated faith in Christ. Sensitive, inquisitive and, at times, plain worshipful, this is a band that sounds like it would be as comfortable on a bar stage as in a church sanctuary.
Brothers Mountain and Joe Morin provide more than just the typical bass/drum backbone. Mountain adds full-voice vocal harmonies and countermelodies to his low-end duties while Joe experiments with piano, bells and various percussion elements. Vocalist and guitarist Joshua Silverberg applies his one obsession with songwriting and his dual college degrees in musical composition and music technology as he cranks through his blistering guitar parts and barely on the tracks' vocals. Guitarist James Usher is similarly unafraid to push limits and, occasionally, even shred a bit. The overall chemical balance of Edison Glass' sound is tight, well-conceived and engaging.
While emo has certainly left the building, Edison Glass manages to capture the appealing elements of the genre and cross-pollinate them with classic rock elements to create a fascinating new sound.


© 2006 CCM Magazine. All rights reserved. Used with permission. Click here to subscribe.
See Edison Glass music videos at Godtube.com!