Emery's Man Marked by Loss, Regret
Andy Argyrakis

CCM Magazine

2007

29 Oct

COMMENTS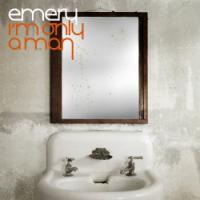 Artist: Emery
Title: I'm Only a Man
Label: Tooth & Nail
It's impossible to check out Emery's latest and not get the drift that the guys have several issues weighing heavily on their hearts, particularly loss and regret.
But while the hard rock/screamo soundscapes (with less emo) initially appear to be accompanied by a dark cloud, the disc has several moments of hope and rebirth.
Though never especially overt, the guys allude to faith during the electric guitar wall of "Party Song." "Matt's Song" is also easily relatable, tracing "a broken heart on bedroom floors" across accelerated alternative rock and scalding screamo injections. While the lyrics are unabashedly transparent, the sonic structuring is a bit too schizophrenic at times, particularly "The River" (which flows between calming and jarring over odd moaning), along with 11 minutes of self-indulgent excess come "Crocodile Mile."
Thankfully, the proactive outweighs the unattractive. But the band still leaves a little room for improvement.





© 2007 CCM Magazine. All rights reserved. Used with permission. Click here to try a free issue.