"Enter the Worship Circle" – Music Review
Brian Quincy Newcomb

CCM Magazine

2004

24 Feb

COMMENTS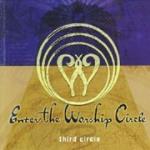 Artist: Third Circle
Label: Grassroots
Embodying the musicality of the drum circle, the modern hippie folk song and the harmony sing-along tradition that goes back for generations, Third Circle continues a journey that attempts to reflect the inspiration of the Psalter for a new generation. Simple yet texturally rich, these songs find their center in crisp acoustic guitars, hand drums and the lush tapestries of male and female vocals.

Valuing the worship experience as public, conversational and inviting, the singers and writers have sought to respond to the words of Scripture in ways that are immediate and relevant. "I Don't Know," "God Is Good" and "Everlasting Love" are examples of how the lyrics manage to feel both personal yet broadly universal while presenting a very specific "religious" experience that expects a high level of emotional availability. Not everyone will feel comfortable with the idea of being "kissed" by God, but that's the kind of verbiage listeners will find here.

As much as they wish to honor the full humanity of the Psalter in "Worship Circle," the funkier laments and cries for social restructuring that many find in the biblical text rarely surface in songs that tend toward praise and thanksgiving. But on "Dance Dance," the soulful improv of "Love Me Like That" and in the sentiment of "Together," there's an earthy sensuality that is a fitting, even crucial, element in making the spiritual journey accessible to those who have previously felt cut off.

© 2004 CCM Magazine.  All rights reserved.  Used with permission.  Click here to subscribe.