Essential Christmas Collection Offers Something for Everyone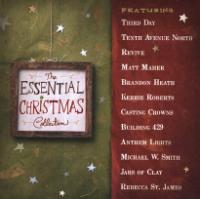 Artists: Various
Title: The Essential Christmas Collection
Label: Essential Records

Christmas compilation provides eclectic sampler of artists poised to shine in the New Year …

Consider The Essential Christmas Collection just as much a foretaste of Provident Label Group's priority artists heading into 2011 as it is a diverse holiday offering.

Heavy hitter veterans Third Day, Casting Crowns, Michael W. Smith and Jars of Clay provide substantial traditional offerings found on their respective Christmas projects, while up-and-coming artists such as Tenth Avenue North, Matt Maher and Brandon Heath lend their voices to rare tracks that have been previously offered as one-off downloads to fervent fans but have never made their way to a full-length album. Then, there are the newcomers: Kerrie Roberts, who released her debut earlier this year, Revive, and brand-new pop band Anthem Lights, set to release its first album in 2011.

Those familiar with label affiliations may find the additions of Building 429 and Rebecca St. James odd. However, it seems both the former INO pop/rock band and the EMI Australian songstress have recently signed the dotted line at Provident. This likely means new albums are in the works and will release through PLG in the New Year.

Although the 12 songs captured on this compilation form a pleasant listen from front to back, it's the hard-to-find singles that fans will be most interested in. The quirky version of "Go Tell It On The Mountain" from Tenth Avenue North puts a modern twist on an old favorite. And though a choir takes the vocal lead on Smith's "All Is Well," the elegant classic finds Smith at his best with this self-penned original.

The finest moments come in the form of three back-to-back contributions from Maher, Heath and Roberts. Maher provides a subdued, worshipful version of "Silent Night." Heath's "The Night Before Christmas" carries a beautiful visual of the birth of Christ and an endearing vocal. Robert's soaring rendition of "O Holy Night" will send cold chills down your spine. This is inevitably one of the hardest carols to sing, and Roberts pulls it off effortlessly, making the art of singing those incredibly high notes seem flawlessly easy.

On the whole, the album has enough quality tones to provide a lovely soundtrack to your holiday season. And if this project is a preview of what's ahead, good things are in store for 2011.


**This review first published on November 11, 2010.