Evangelical Rock Made on Heroes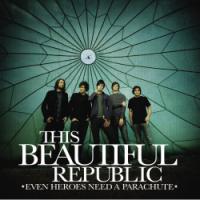 Artist: This Beautiful Republic
Title: Even Heroes Need a Parachute
Label: Forefront
For its debut CD, produced by Allen Salmon (most noted for engineering records by Sanctus Real and Mute Math), This Beautiful Republic has recorded a strong effort of mostly radio-friendly rock anthems.
Although a little formulaic and repetitive at times, the band still manages to invest enough creative energy into each track that it should keep even the most apathetic listener engaged. Where This Beautiful Republic really shines, however, is when it seems to let loose and have fun within the moment.
The two opening tracks on the album—"Casting Off" and "Going Under"—are prime examples. They are the kind of songs that will inspire you to shake the dust off of your favorite air guitar and play along. If the band could have kept up the same momentum throughout the entire CD, this disc would have hit album written all over it.
Lyrically, This Beautiful Republic's message is anything but subtle, and the band members make no apologies for it. They are here for one purpose: to proclaim the good news of Jesus Christ. This, in itself, is very refreshing in light of the myriad of rock bands today that often seem intent on using cryptic lyrics that are hard to interpret. Hopefully, we will be hearing much more from this promising young act far into the future.
You can view This Beautiful Republic music videos at Godtube.com.


© 2007 CCM Magazine. All rights reserved. Used with permission. Click here to try a free issue.