Everyday Sunday Returns with Amped-Up Wake Up!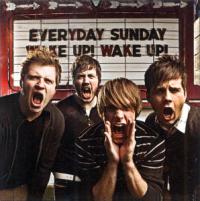 Artist: Everyday Sunday
Title: Wake Up! Wake Up!
Label: InPop Records
Just in time for convertible weather comes the long awaited (three years!) third release from Everyday Sunday, Wake Up! Wake Up! The Columbus, Ohio quintet is back with a vengeance, and they brought their crunchy guitars and power drums with them. Wake Up! Wake Up! doesn't reinvent the wheel, but on this Ian Eskelin production, they have tightened up what was already working. There is still the amped up power pop energy, but several tracks (the nuanced "Tell Me You'll Be There" and "Find Me Tonight, deep with meaning) bring also a melodious sensibility. All ten tracks are prime jack-up-the-radio-and-let-the-wind-blow material.
Upbeat power rocker "Let's Go Back" opens, considering the complications of relationships. It's a positive mix of youthful energy and adult wisdom, with lyrics like: "God didn't tell me waste these dreams." Everyday Sunday does their audience a solid by reminding them to line romance up with the Lord's leading. Like another great Ian Eskelin-produced band, Stellar Kart, Everyday Sunday injects their thundering pop with enough sonic energy to reach the MTV crowd, and enough affirming truth to point toward life in the process. The bouncy title track follows, sheer fun but again punching the 'waste not' message. Thick guitars do not obscure the powerful lyrics of surrender on "Take Me Out": "I don't wanna go without a fight/ I don't wanna leave without Your scar."
"Find Me Tonight" is as close as Wake Up! gets to straight-up worship, Jesse Counts' fierce guitar proudly underscoring the vertical chorus: "You speak without sound/ Your love is so loud/ You always save me." "Apathy for Apologies" calls for the real deal through a thicket of guitars and pumping rhythms. But Everyday Sunday really scores on the fun charts with the humor-injected "I'll Get Over It (Miss Elaineous)," recalling that dreaded "let's be friends" moment. They had me at hello.
Can't close without mentioning "Tell Me You'll Be Here," its slow-burning rock changes and spiritually charged lyrics making it a standout track. Front man Troy Pearson's always vibrant vocals pour out the sincerity on the imploring lyrics: "Tell me You'll be there/tell me You're the Cure/and tell me You'll be waiting when my face is on the floor."
Wake Up! Wake Up! just may put an end to Everyday Sunday's under-the-radar status.


© 2007 CMCentral.com. All rights reserved. Used with permission.



Visit CMCentral.com now and join the single largest online community of Christian music fans on the internet. CMCentral features daily music news, exclusive interviews, album reviews, weekly devotions and feature articles written by some of your favorite Christian artists, and much more. CMCentral is also the home of the most popular Forum for Christian music fans that you'll find anywhere on the Internet. Come see what all the buzz is about!