Everyday Sunday Ups the Ante on "Anthems for the Imperfect"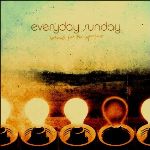 Artist:   Everyday Sunday
Label:   Flicker
Everyday Sunday's Flicker Records debut, "Stand Up," rocked hard enough to earn the band a spot as one of CCM Magazine readers' "Favorite New Artists" of 2003 — no small feat considering its album was released within a year of albums by other similarly named groups (Everyone and Everman). But the band, which hails from Columbus, Ohio, had plenty to distinguish itself. Its songs melded garage rock and British pop, topped with singer Trey Pearson's strong melodies — a smart combo.
The follow up, "Anthems for the Imperfect," picks up where "Stand Up" left off and actually ups the ante. This time, the Brit-pop references are a bit stronger, the band's rhythm section snappier and the songwriting more sophisticated and varied.
Typical of the album's direction is "Gypsy Girl," which starts with a cascading guitar riff and then explodes into a chorus reminiscent of U.K. power-pop icons Oasis. The Beatlesque gem "Herself" is a darling pop tune describing an ideal love. "Something" has a snarling vocal over intense power chords, and "Bring It On" is equally charged, complete with a frenetic drum breakdown that leads into a near-psychedelic guitar solo. The '60s sounded something like this, didn't they?
The band's quieter efforts are just as melodic. On "I Won't Give Up," a mid-tempo rocker, Pearson sounds like an edgier Dan Haseltine (of Jars of Clay) as he sings about seeking redemption. Album closer "The One" is a delicate dedication of devotion with sweet harmonies and, less characteristic of the disc, violin and piano backing.
If its first album made them a fan favorite, then "Anthems for the Imperfect" will likely propel Everyday Sunday toward even more recognition — especially since most of these songs seem ready-made to become concert anthems with a long shelf-life.

© 2004 CCM Magazine.  All rights reserved.  Used with permission.  Click here to subscribe.