Everyday Woman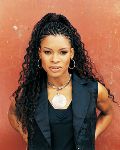 It's around noon in Atlanta, but Nicole C. Mullen's still feeling drowsy. "I'm sleepy, but I'm good," she says over the phone, feeling the effects of working late nights to mix "Everyday People," her third studio album for Word Records. "We've been working on it for the past six months ... nine ... a year, maybe more – who knows? You lose track of time after a while. But it's all good."
The album released Sept. 14. But, as Mullen chats away, it's mid-July; and she's fighting the battles that go with giving birth to a new recording: nailing down songs and lyrics, handling publicity, missing sleep. (Later in the month, she'll dispatch an e-mail to this writer, sending it at 1 a.m.) To say there's extra interest in this album is like saying fish think water's an "OK" place to live. Mullen put out a Christmas album in 2002 and a live CD/DVD in 2003, but "Everyday People" is her first all-new studio recording since 2001's "Talk About It"– an album that sold more than 220,000 copies, according to SoundScan. High-profile producers are onboard, it's being mixed at the Atlanta studio owned by platinum rappers OutKast, and Word Records is planning to give it an extra push, possibly into the general market.
And that's not all that's keeping Mullen busy. Life at home has taken on new complexity. Son Josiah, the third child for Mullen and her husband,  artist and producer David Mullen (They also have a daughter, Jasmine, 10, and another son, Max, 7.) – turned 1 in February.
A lot's happening. And it is, she says, "all good." Spend any length of time talking to her, and you'll hear that phrase pop up often: "It's all good." She drops it into conversation with the same smooth, supple voice that fueled hits "Redeemer" and "Call on Jesus." And with six Dove Awards, a GRAMMY nomination, a loyal fan base and a growing family behind her, there's every reason to believe life is good for this singer/songwriter.
But the more Nicole talks, the more it becomes clear: What's good isn't so much the success. What's good is the process of working through the challenges along the way – and playing a part in helping others do the same.
"Often, when I'm writing, the people I'm seeing in my head are the people I've seen at my concerts – people who have e-mailed me or sent me letters afterward," she says. "And it definitely lets me know that I'm singing for a hurting audience – vulnerable people who are crying out to God, people who are going through circumstances, people who are 'everyday.' These are the people I see; these are the voices I hear when I'm putting pen to the paper."
If there's a story that reveals Nicole's heart for people-and the heart of "Everyday People" – it is the story of Brianna Nelson. She met the girl, the subject of her new song "Brianna," in 2002. "One of my favorite things after I sing is to go out and meet the people, hug their necks and ask, 'What's your name, and what do you want to be when you grow up?' I love that; it's my favorite part of the night. And I remember somebody telling me that there was a little girl who wanted to meet me, and she was blind," Nicole says. "And my whole thing is, 'OK, the world is going to stop.' If you've come and you're in a wheelchair or you're deaf or blind or if you look like you need a little extra love, the world's going to stop for you when you're around me."
So, Nicole walked across the lawn with her own daughter, Jasmine, and struck up a conversation. "She was with her mom, and we were talking about how cute she looked," Nicole recalls. "I said, 'Girl, your mom has your hair looking good; your clothes are stylin',' and she was laughing." Nicole asked her what she liked to do. Brianna talked about reading and playing and her little sister.
"We had this little 7-year-old conversation," Nicole says. "And I remember leaving that night, and [her memory] stayed with me for several weeks. I remember praying for her and thinking, 'What should I be bold enough to pray for her? Do You want to heal her? Lord, did I do what I was supposed to do?' And I remember hearing so clearly what Jesus had told the disciples when they came upon the blind man. They said, 'Master, who did sin?' And Jesus said, 'Neither this man nor his parents but that the work of God might be manifest in him.' And I remember hearing so clearly, 'But that the work of God might be manifest.' And I kept praying, 'Lord, I don't know what that means; but I know, in her life, manifest Your work.' "
Sometimes, people who feel led to pray for a person don't fully know why. This was one of those times: Within a year, Brianna's young life would end. Brianna's death in July 2003 made national news. According to accounts from CNN and The Associated Press, she had been swimming in Lake Calhoun in Minnesota at a camp with a group of blind students. After growing tired, she told one of the counselors in the water – who also was blind – that she was going to shore. She drowned before reaching land.
Nicole did not learn of Brianna's passing immediately. She found out weeks later, before a concert, via a letter written by someone who knew the girl. "I remember it just hitting me in the heart so hard," the singer says. "I just had to put my jacket over my head, and I just started balling. I couldn't imagine ... we are not supposed to bury our children. That's a fallen world; and, at that moment, I grieved."
Toward the end of 2003, Nicole had a bittersweet reunion with Brianna's family during one of the shows on her Christmas tour. "We just had a good time of tears, laughter and just hearing their hearts," Nicole says. "In the midst of their trauma and tragedy, they had no bitterness. Their whole view was, 'God gave her to us for a time. And, though we hurt and we're grieving, she's with the Lord.'
"It was healing to my heart because I was supposed to be comforting them, and somehow they were bringing comfort to me. They were saying, 'We didn't know how the Lord was going to use her life. We thought maybe it was going to be in the area of piano.' But they say that, even through her death, a lot of people have gotten saved. Even at her funeral, people came to know Christ. Brianna was very vocal about her faith."
It is only natural for a songwriter to be moved by such a significant event. So Nicole, with permission from the girl's parents, captured her thoughts about Brianna in simple verses. The song ends:
I talked to your mama the other day
And she told me you'd passed away
I couldn't find the words to say
I started to cry
She said when her heart begins to ache
She can remember you're in a place
Lookin' at Jesus face to face
What a delight
You got your sight
You dance in the light
And you can see me tonight
Bye bye, Brianna
...I'll see you in the daylight
"Brianna" quickly became one of the focal points of Nicole's new album, which she describes as a celebration of people and a rebuff to the cares of this world. "It's about the women who live in abusive situations and attend my concerts at times. It's about the single mom. It's about the boy and the man struggling to be who God's called them to be," she says. "Jesus Christ came from everyday people. He saved everyday people."
One song on the album, "Dancin' in the Rain," was written for a friend whose husband died suddenly. Another, "Valorie," portrays a woman struggling to find forgiveness for a man who beats her. "I was just faced with every time I turned around, either myself or someone else I knew was going through something," she says. "The God we serve is not just a God who is relevant for Sunday morning, but He is relevant from Sunday through that next Sunday. How do we walk out our faith? How do we see the supernatural in our mundane? How do we see all these things the Bible talks about, worked out in our everyday problems? These are things I tried to address."
Of course, it's no secret that Nicole sees herself as an everyday person, too. Raised in Cincinnati – the daughter of Napoleon and Mary Jane Coleman – she has often told the story of growing up as "not the beauty queen or the cute one" and feeling shame from the taunts of her peers. At home, though, her foundation was strong. Faith in God was the center of the house. Her father worked more than three decades for the local telephone company as a line technician, and the family often gave help and refuge to people.
Inspired by her parents, she grew up pursuing music. Her mother, in the documentary on Nicole's "Live in Cincinnati" DVD, recalls Nicole's writing poems at an early age. Her dad taught her harmony. She wrote songs and recorded demos, one of which attracted RCA Records, when she was 16. (Her mom refused to let her sign a contract.) At age 17, Nicole went to Christ for the Nations Bible college in Dallas and began singing and traveling with its group, Living Praise.
A connection with artist Tim Miner led to a deal with Frontline Records. "They were looking for a rapper," she remembers. "He was like, 'I guess she can rap.' And so he came to me like, 'They want a rapper, and they want to sign you,' and I was like, 'I don't rap.' So he called me back and said, 'OK, they'll take you.' And so I recorded a couple of albums with them."
"Don't Let Me Go" and "Wish Me Love" released in the early '90s under simply the name "Nicole," failed to make more than a few ripples in Christian music. Today, they are so out of print that they rarely even pop up for sale on eBay. "You can get them in the 50-cent bin somewhere," Nicole says.
Unfazed, the singer moved on, taking backup roles on tours with Amy Grant, Michael W. Smith and the Newsboys. She married artist David Mullen – who continues to write and produce and co-owns a recording studio with Toby McKeehan – around the time of a Newsboys tour. One of the couple's earliest writing successes was "On My Knees," a huge hit on Jaci Velasquez's debut album in 1996 and winner of the Dove Award for "Song of the Year" in 1998.
Nicole had little intention of getting back in the spotlight. She and David were content with their growing family and work behind the scenes writing and producing material, ranging from Carman's "Yo! Kidz" to the Larry Boy theme song for VeggieTales. Then Word Records – in the form of producer and artist Brent Bourgeois – came calling. "I'm like, 'No, I'm not the kind of person you're looking for, Brent.' He's like, 'No, I'm telling you, you really are because Word wants some new music,'" she says. "It took about a year and a half, and we had prayed, 'Lord, keep the right doors open and close the wrong doors.' He kept the door open. Then we had a peace about signing."
In the studio to record her first album for Word, Nicole pulled out a guitar and began singing something she'd begun writing for Point of Grace but had decided to record herself. It was a song based on a passage from Job, a song that resonated deeply with the troubles of everyday life, reaching back to the taunts she heard on the school bus as a kid. It was called, simply, "Redeemer."
The song's success led to three Dove Awards for Nicole, including 2001's "Song of the Year," and established her as one of Christian music's most respected singer/songwriters. "It was because of the Lord's doing," she says. "Even today, when people tell me of how a song that I've been able to write has affected them, I know it's not Nicole C. Mullen. I know that I don't have the power to change anybody's life. But Christ does."
That approach to her music has carried over to this newest album. Mixing "Everyday People" in Atlanta instead of Nashville is, in a sense, symbolic of Mullen's desire to take her music to a broader audience. Management won't talk about any plans; but Nicole, when asked if the album could have crossover appeal, says: "I sure do hope so. I think we have plenty of things that could do that. ... I want to have my feet planted firmly in the church so that I can reach over into the world, pull people out without falling in. It's always been my desire to take the message of Christ, the hope of Christ ... into the world. I make no apologies for it – it's always been my desire, and so I would love to see the Lord do that with this. I would love to see Him give His favor in the mainstream arena; and, at the same time, I'd love to take my Christian audience over with me."
The album certainly has enough connections to make people notice it outside of the Christian music industry. The majority of "Everyday People" is being mixed by John Frye, who has worked with OutKast, Toni Braxton and other star R&B and rap artists. Guest producers include Tommy Sims (Jaci Velasquez, Michael McDonald), Big Jim Wright (Mariah Carey, Yolanda Adams, Janet Jackson) and Andrew Ramsey and Shannon Sanders – better known as Shannon and Drew – who produced India.Arie's latest.
Nicole even covers "Everyday People," the 1968 hit by Sly and the Family Stone. "Which is ironic," she admits, "because I didn't even know it until a month and a half ago." Still, she says, "One of the things that I am constantly trying to make sure of is that I'm not put in a box because I know that people would love to hear Nicole C. Mullen sing a thousand 'Redeemer' songs. And I love 'Redeemer,' and I will probably be singing it till I'm 190 years old and I have no teeth in my mouth. But, at the same time, 'Redeemer' was birthed in the midst of a hard situation. That is where I feel called – to bring our attention back to 'Wherever you are, that's where Christ is.' He is the I Am.
"Jesus didn't walk in the clouds. He lived in heaven, but He came down to Earth. And He came down and got dirty with us; He came down and died for us.
"There's a balance there; and, for this season of my life, these are the songs that have been birthed in my heart. This is the trumpet I feel I have been called to sound-just to proclaim that the Christ we serve is relevant for everyday pain, for everyday life. At the end of the day, my heart is to scream to the world, 'O taste and see that the God we serve is good.'"

© 2004 CCM Magazine.  All rights reserved.  Used with permission.  Click here to subscribe.