"Exodus" - Music Review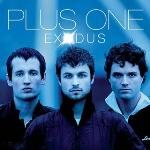 Artist:    Plus One
Label:   Inpop Records
When word spread that Plus One was trading its boy-band moves for modern-rock street-cred, more than one Internet chat pundit wondered if the band could pull it off — not that too many necessarily disagreed with the idea. After all, the whole boy-band thing has followed ska into the land of yesterday's trends, so reaching for rock integrity seemed like a smart choice. But could the guys pull it off?
Turns out, they can. Now a threesome — with Nate Cole, Gabe Combs and Nathan Walters — the new Plus One bears only a passing resemblance to the vocal group that debuted in 2000 with "The Promise" (Atlantic). Absent from the mix are all the pretty, quivering harmonies and computer-generated music. In their place are rock guitars and the band's smart songwriting, bolstered by crisp production, courtesy of Newsboys' Peter Furler and Jeff Frankenstein.
The result is a bonafide rock album — and a pretty good one, too. Much of "Exodus" offers poppier rock à la Lifehouse ("Tonight") or the latest installment of FFH (the piano-driven "Outlaw"). And when the band drops in a song like "Poor Man," you know its metamorphosis is cemented. Built on heavily fuzzed guitars, the chorus pounds with the brute-force ethos you'd expect from, say, Kutless.
Cole aptly handles lead vocals and thankfully minimizes the vibrato boy-band nuances. Meanwhile, the songs focus on overcoming through love ("Be Love"), deliverance ("Exodus") or protection ("Sea of Angels"). The only distraction is an unremarkable cover of "Here I Am to Worship," which could have used a more creative re-visioning. Nevertheless, Plus One has pulled off a big change with style and substance — a rare accomplishment. 

© 2003 CCM Magazine.  All rights reserved.  Used with permission.  Click here to subscribe.