Switchfoot Shines Bright in Fading West
Ed Cardinal

Crosswalk.com Contributing Writer

2014

27 Jan

COMMENTS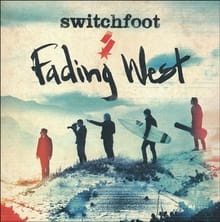 Artist: Switchfoot
Title: Fading West
Label: Atlantic

Although Switchfoot has just debuted at No. 1 on Billboard's national Christian chart with Fading West, there's talk that this ninth studio album doesn't meet past standards because it's more pop than rock. So what? These guys made three creative pop sets before breaking through in 2003 with the crunchy rock anthem "Meant to Live." What's really happening on Fading West is an act combining its best strengths from different eras to hit an exciting new stride—and not fade away. Bravo!

As for back story, Switchfoot recently toured the world while filming a documentary about the members' onstage action and offstage passions, surfing in particular. Lead singer Jon Foreman makes a fine correlation between what it felt like to surf beyond California and how the band took to creating Fading West: "You paddle out in South Africa and it's exactly like home and nothing like home all at once. That's what I'm hoping our record feels like—trying to find peace in dangerous places."

Indeed, there is something comforting yet empowering about the fun, funky anthem "Who We Are" and emotionally transparent "Back to the Beginning Again." The former recounts the band's early days starting out as teenagers then defines its progression by having the members' children sing backup on the hopeful chorus. The latter delights in adventure: I want to feel the wind at my back again.

And that's how Fading West feels—daring to not be as safe as on recent Switchfoot projects where the mix of U2 and Led Zeppelin musical influences began to feel formulaic. "Love Alone Is Worth the Fight" rails against social and spiritual fears, propelled by a wordless melodic hook, pretty electronic overtones, and a call to go headed down the open road unknown. Similar traits color "When We Come Alive," "All or Nothing at All," and "Let It Out," where comparisons to Katy Perry are as fair as alternative rock ones.

Yet Switchfoot is still Switchfoot. "Say It Like You Mean It" has the sloppy guitar riffs, distorted urgent vocals, and killer rhythm section. "Saltwater Heart" and "BA55" achieve levels of laid back cool that are pure West Coast. And the soul-deep ballad anthems—"The World You Want" and "Slipping Away"—sparkle with Foreman's wide-open emotions and a fresh round of world music influence.

Shaking things up a bit can go either way. Fading West finds Switchfoot shining brighter than before.
*Published 1/27/2014