Fair is Back with Disappearing World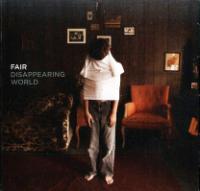 Artist: Fair
Title: Disappearing World
Label: Tooth & Nail Records

Super producer leads brilliant alt-pop band …

Look inside any CD booklet spanning the alternative, punk and hard rock genres, and chances are Aaron Sprinkle's name will pop up in the production credits. Aside from helping make hit records for Kutless, Anberlin, Jeremy Camp, Acceptance, Demon Hunter and Pedro the Lion, he's also had a varied and prolific artistic career, starting with Poor Old Lu, continuing with Rose Blossom Punch, alongside several solo CDs and his latest band Fair.

That latter act may only be on its sophomore CD with Disappearing World, but it's clear these guys known how to write insanely catchy hooks over sophisticated lyrics that speak of grace, healing and renewal across a myriad of '60s, '70s and a handful of '80s influences. Take a scan through the ten tunes and everything from The Beatles to Pink Floyd and The Cure will pop out, though to fans of the front man's many projects, its all undeniably Sprinkle as well.

From the joyous harmonies of the title track through the groovy vibe of "Walking in My Sleep" and the angular guitars merged with vibrant piano pop throughout "The Escape Artist," Fair's music literally melts in the mouth. And there's always a sweet aftertaste as softer songs like "The Worst of Your Wear" and "Anymore" showcase the group's mellow side without ever coming across as sleepy. Add in the dancey "Wayside" or the gorgeous ballad "Take Some Risks," and Fair may very well have made a practically perfect indie pop record.

© 2010 CCMmagazine.com. All rights reserved. Used with permission.

**This review first published on March 11, 2010.