Female-Fronted Fireflight Releases "Harms" With Hype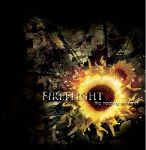 Artist: Fireflight
Title: "The Healing of Harms"
Label: Flicker
Almost every label I talk to lately tells me they are looking for a female-fronted hard rock band. There are plenty out there, but most of them are just not that good. So it is easy to understand why Florida buzz band Fireflight has released its national label debut, "The Healing of Harms," with a lot of hype.
The band was formed back in 1999 in a small town outside of Orlando. Band members Dawn Richardson (lead vocals), Wendy Drennen (bass), Glenn Drennen (guitar), Justin Cox (guitar, background vocals) and Phee Shorb (drums) have been working hard for the past six years; and it shows. The arrangements and vocals are great, and their overall sound is extremely tight.
"The Healing of Harms" is more than just a great album title; it's a hard-driving blend of emo-core and hard rock. Dawn's excellent, soaring lead vocals are some of the best in this genre and should help propel the band to success. While the musical performance and production may not have the intensity of Flyleaf, there's more melody and commercial appeal here, and Christian rock radio should have a blast with this album. Songs such as "Liar" with its hard driving guitar hooks and great vocal interchanges will be a favorite with both fans and programmers.
Where "Healing of Harms" may fall a bit short of the best in the areas of production and raw energy, it makes up for that in lyrical and spiritual integrity. This is refreshing, considering bands such as Evanescence and Flyleaf are more vague and lack lyrical maturity. While other bands focus on the darkness in life, Fireflight is not afraid to focus on the hope and the light. It is really a breath of fresh air. So many bands today are trying so hard to relate to kids that they seem to forget that, once in a while, it's okay to talk about the light, to say, "Hey, it's not all about me or you …there's something bigger."
Bigger as in the song "Myself" where Dawn sings, "You held me up and made me learn to love more than myself/ You took my hand before I knew there was more than myself." In the melodic and infectious track "Waiting," the lyrics are direct, stating, "God heal me/ My broken heart/ It longs for You." With the song "It's You," the band addresses the constant barrage of negative influence and a false sense of image and self-worth pushed on us by the media.
Fireflight gets an "A+" for lyrics and integrity. But the bar for production and overall intensity has been set quite high, and the band isn't quite there yet – but I have no doubt that they will make it!


© 2006 CCM Magazine. All rights reserved. Used with permission. Click here to subscribe.
Check out Fireflight music videos at Godtube.com!