FFH, Worship Together, and Byron Cage - Mar 05 News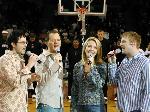 STAND BY FOR ALBUM LAUNCH – FFH (pictured here performing at a recent Memphis Grizzlies game), or rather their label (Essential Records), picked a dandy time to release the pop group's fourth studio project, Ready to Fly.  The launch date has been set for April 15, only mere days after Gospel Music Association (GMA) Week in Nashville, Tenn. and the 34th Annual Dove Awards--at which members Jeromy Deibler and Michael Boggs are nominated as songwriters for "Inspirational Recorded Song" for "Before It Was Said" (from Have I Ever Told You) and Jennifer Deibler is up for "Special Event Album of the Year" for her contribution to the Girls of Grace project.  But wait…there's more.  The foursome is planning a promotional tour surrounding the release date, as well as a major market tour beginning later in April.  Fans and listeners won't have to wait for April 15 to get Ready to Fly.  Turn on your nearest Christian radio station and you'll most likely hear first radio single, "You Found Me", which has already climbed its way to No. 13 on Radio & Records' Christian Adult Contemporary Top 30 chart this week.  And that's only three weeks after the song's debut.  Hello! 

TIME FOR A LIFE OF WORSHIP – It's another power match-up in the music world.  Worship Together and Time-Life are partnering to release The Best of Modern Worship 2:  Be Glorified on April 8.  If you're a worship fan, then you'll be very interested in this two-CD set and it's 22 tracks including some favs:  "Let Everything That Has Breath" (Matt Redman), "More Love, More Power" (Jeff Deyo), "Song of Love" (Rebecca St. James), "Salvation Belongs to Our God" (Crystal Lewis), and more.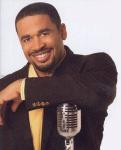 TIME TO GET BLESSED – From the toe-tapping "Get ready to be blessed" intro, you know you're about to have one of the most high-energy worship, having church experiences you've ever had.  Byron Cage's recently released, self-titled solo project on Gospo Centric Records promises just that.  And it's LIVE, so you definitely feel like you're there at Atlanta's New Birth Cathedral where it was recorded.  And apparently, it's good to have connections as some major Gospel players-- including Kurt Carr, Donnie McClurkin, the Kurt Carr Singers, and Purpose—contributed through either production, songwriting, or singing skills to this 12-track project.  "My greatest desire is that the Lord take this music to the masses," Cage says.  "I don't like to think of myself and these songs as being in one box, for only one culture of people.  I know that when we get to heaven there isn't going to be separate sections for Asians, Latinos, Caucasians, and African-Americans.  We're all going to come together to worship."  When he's not making records, Cage is busy with his day job as the Senior Minister of Church Worship and Music Administration at Ebenezer AME church in Fort Washington, Md.