FLAME Continues Spewing Fire on Redeemed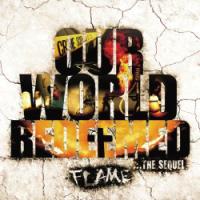 Artist: FLAME
Title: Our World: Redeemed
Label: Cross Movement
Less than a year after shedding light on the world's fall from grace with the apocalyptic Our World: Fallen, St. Louis rapper FLAME continues to spew fire with Our World: Redeemed, his fourth album on the Cross Movement label.
But don't expect the two discs to be cut from the same mold. As if doing a 180-degree turn, FLAME's Our World: Redeemed is almost the polar opposite to its predecessor, favoring slicker, more in-your-face sound beds over the generally brooding atmosphere of the prequel.
This change is needed. FLAME is no longer rapping about humanity's lost cause, but inspiring it to rise above its abject condition, to choose life in Christ above death in its own trespasses. For the emcee, bereavement is a cause for rejoicing ("Funeral to Birthday"), pain a precursor to abundance ("Hold On"), bloodshed the preamble to eternity ("On That Cross").
On occasion, FLAME tends to place style in front of substance ("Go Buck"), and the beats aren't always conducive to the hope-filled nature of the album's thesis. This gives the proceedings an air of self-seriousness that could curtail the celebratory character of the disc.
In all, though, Our World: Redeemed ascribes all honor and glory to Jesus, so that, by album's end, there's no confusion as to whose name is the only one by which men and women can be saved.






© 2008 CCM Magazine. All rights reserved. Used with permission.


**This review first published on April 4, 2008.