Francesca Battistelli's Christmas Has a Timeless Quality
Christa Banister

Crosswalk.com Contributing Writer

2012

6 Dec

COMMENTS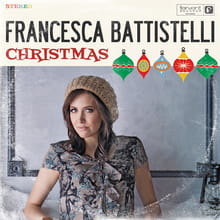 Artist: Francesca Battistelli
Title: Christmas
Label: Fervent
While the album title itself could've benefited from a little more creativity (really, Christmas was all anyone could come up with?), Francesca Battistelli's first—and what should be her only—holiday effort is a total knock-out.
Timeless, with a bit of old soul sass like crooners Ella Fitzgerald and Brenda Lee, it encapsulates all those warm and fuzzy feelings associated with the most wonderful time of the year without being cloyingly sappy. Plus, standout originals including "Heaven Everywhere" and "Christmas Is" keep the focus on the true meaning of the season, the birth of a Savior, without resorting to familiar clichés.
And while the music industry's dirty little secret is that most holiday albums are recorded in the dead heat of summer with a little fake snow and twinkling lights in the studio for ambience, Christmas actually sounds like it was recorded in December. Yes, Battistelli does a great job of making the spirit bright.
Unlike, say, Lady Antebellum's rather phoned-in effort that released a few weeks ago, everything from the tasteful orchestral accompaniment to the sheer joy in Battistelli's vocals, scream Christmas. Whether opting for a tasteful rendition of sacred standbys like "Joy to the World" and "O Come O Come Emmanuel" or putting a modern, upbeat spin on "The Christmas Song," those chestnuts roasting by the open fire have never sounded better.
Strangely enough, however, it's the simplest of tracks that ultimately steals the show on Christmas. With simple acoustic guitar, piano and just a hint of drums, "You're Here" is a beautiful worship anthem that's sure to stick around for years to come.
Like Amy Grant's classic "Breath of Heaven," Battistelli is singing from young Mary's perspective. As she sings "You're here…I'm staring into the face of my savior, king and creator. You could have left us on our own but you're here," the true Joy of the season really couldn't have been summed up better.
*This Article First Published 12/6/2012
**Check out our Christmas Facebook page at www.facebook.com/LuvChristmas.