"Full Circle" Crackles with Celebratory Spirit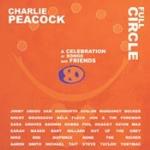 Artist:   Charlie Peacock
Label:   Sparrow
Deep breath: Author, musician, songwriter, producer, label head, teacher, mentor and eternal student. Charlie Peacock embraces so many elements of the creative Christian life, it takes a freewheeling flowchart to keep up. And if all of those hats fit neatly onto one rack, you'd find one word carved with love at its base: "ARTIST."
After two decades as a solo performer, this might seem like a fine time for Peacock to hang up a hat or two for keeps. But judging by the tenor of "Full Circle," the party's still in full swing. Here, he teams with some 20 artists to yield a disc that, while at times exceedingly eclectic, crackles with celebratory spirit.
To be sure, these songs will be familiar to longtime fans of Peacock and Christian music. But here, he infuses them with new energy, thanks to guests diverse as MercyMe's Bart Millard, Darwin Hobbs, all three dc talkers (alas, appearing separately), Switchfoot's Jon and Tim Foreman and banjo picker Bela Fleck. "Full Circle" also highlights what may be Sixpence None the Richer's final collaboration as Leigh Nash's graceful lead vocals and Matt Slocum's guitars reinvent the Peacock/Amy Grant classic "Every Heartbeat."
It is Fleck, along with Phil Keaggy and Sara Groves, who join Peacock on the album's peak flight: a rustic version of "In the Light" that sounds like it fell off the back of a Carolina hay wagon.
Throughout "Full Circle," Peacock's voice suggests a strong cross between John Hiatt and John Lennon, and one of the two newly written solo tracks, "God in the World," traces an apt autobiography merging circumstances of life and spirit: "I was a one-time wide-eyed boy from California/ Who lost his way in the haze of pride, blinded by my pain/ … I answered to no master but the one named Coltrane."
No weak tracks plague this disc, though some surpass for their delightful daring. Steve Taylor and Margaret Becker team for a synth-driven version of "Lie Down in the Grass" that sounds like it was lifted from Kim Wilde's "Kids in America" — until mosh-pit guitars blast the chorus home. Such moments give this "full circle" — occasionally a bit too burnished — a welcome fray at the edges.

© 2004 CCM Magazine.  All rights reserved.  Used with permission.  Click here to subscribe.