Fusebox Finds Its Worship Niche on "Once Again"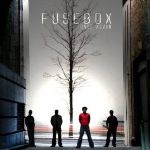 Artist:    Fusebox
Label:   Elevate/Inpop
Originally assembled as Rebecca St. James' live band, Fusebox began writing its own music and opening for St. James on several tours. But with the release of the band's second album, "Once Again," this group is proving worthy of independence.
What Fusebox offers is congregational worship nestled in a bed of drum loops and electric guitars. The aim may be for alternative rock; but take away a couple of guitar filters, and you're basically left with a pop album.
Lyrically, as with most modern congregational worship music, simplicity reigns supreme. On the title track, lead singer Billy Buchanan sings about the waltz of the Christian life — repent, believe, fight — and his "thank you for the cross" outburst at the song's end is an emotional, cathartic listen.
It's his raw, urban vocal energy that throttles the majority of the album. Let's face it — worship albums are as popular nowadays as the low-carb diet, so Fusebox isn't the only band in this alterna-pop niche of the worship sector. But it is original enough to survive and certainly good enough to shed the title of "backup band."

© 2004 CCM Magazine.  All rights reserved.  Used with permission.  Click here to subscribe.