Gateway Offers Praise Mix to Wake Up the World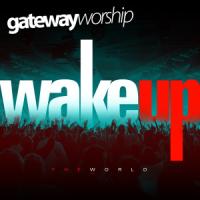 Artist: Gateway Worship
Title: Wake Up the World
Label: Integrity Music
They're new to me, but Integrity Music's Gateway Worship presents on their sophomore disc a nice mix of praise tracks, offering a fresh feel and covering a broad base of worship moments. From the thundering rock of "New Doxology Anthem" to the gentle closing ballad "Beautiful," the worship band handles the gamut of worship experiences with ease.

Glimmering guitars and a strong clear vocal front opener "New Doxology," before moving into uplifting atmospheric praise. The guitar-driven energy continues to build on the reinforcing "New Doxology Anthem," thick with riffs, and lashing down pop-rocker "The Lord Reigns." Things slow down as the band moves into the melodic "God of My Days," more luminous guitars and a female vocal adding texture to the airy track. The same vocal comes across as powerfully sincere on tender ballad "You Are Good," but I enjoyed her most as she moved into free-flowing worship on the string-heavy ballad "We Cry Out."

A strength of these songs is their lyrical focus. Intensely vertical, "When I Speak Your Name," exalting the name of Christ, positively drips with worship. The energy kicks back up with pop-rocker "We'll Make It Loud," its praise strictly vertical through frenetic percussion and lashing guitar riffs. The slammin' title track lays out the mission of the band and their commitment toward heaven. The disc closes out quietly with the gentle "Beautiful" and the piano-driven "Call Your Name," the soft vocal and worshipful lyrics creating a warm sense of intimacy, a perfect wind-down for a strong worship project.
Wake Up The World is one of the stronger congregational praise projects so far this year, offering a nice mix of worship approaches.




© 2008 CMCentral.com. All rights reserved. Used with permission.




Visit CMCentral.com now and join the single largest online community of Christian music fans on the internet. CMCentral features daily music news, exclusive interviews, album reviews, weekly devotions and feature articles written by some of your favorite Christian artists, and much more. CMCentral is also the home of the most popular Forum for Christian music fans that you'll find anywhere on the Internet. Come see what all the buzz is about!