Ginny Owens Reworks Hymns, Spirituals on Say Amen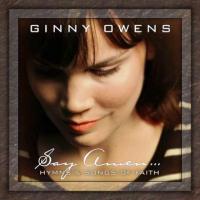 Artist: Ginny Owens
Title: Say Amen
Label: Brite Revolution
Owens' best work since her debut …
With 10 discs in the last 10 years, Ginny Owens' catalog stands impressive in both its sheer volume and piano pop sensibilities. The Mississippi songwriter burst her way into the industry with Michael W. Smith's proud endorsement and a "New Artist of the Year" win at the Dove Awards. Now, 10 years after Without Condition, Owens preps Say Amen, a collection of re-conceptualized hymns and spirituals and her best work since her debut.
The re-imagining is evident from the outset with "How Can I Keep from Singing," a reworked tune that Owens takes from a slightly haunting, cathedral-ceilinged feel to a more joyful, yet simple refrain featuring the perfect touch of violin. The trend continues on "It Is Well" and "Be Thou My Vision." The former shows much respect for the original arrangement and relies on a violin/piano combo, and the latter slowly builds a full production sound including harmonies, developing percussion and interesting guitar tones.
The highlight, however, of Owens' retouches is found on "Just As I Am," where Owens' vocal work is as good and appropriate as ever. The new chorus is simple yet just as meaningful—retaining the power and emotion of the song while injecting a much-needed dose of modernity. The contemporary feel should be enough to bring the song back to life and give Owens a minor hit.
The rest of Say Amen adds diversity to the project, including the a cappella "Bow Down, O Zion" and the snap/stomp combo on "Don't Ya Let Nobody Turn You Round." And with these inclusions, Owens develops one of her finest efforts to date, showcasing an artistic maturity and respect for her material.

© 2009 CMCentral.com. All rights reserved. Used with permission.




Visit CMCentral.com now and join the single largest online community of Christian music fans on the internet. CMCentral features daily music news, exclusive interviews, album reviews, weekly devotions and feature articles written by some of your favorite Christian artists, and much more. CMCentral is also the home of the most popular Forum for Christian music fans that you'll find anywhere on the Internet. Come see what all the buzz is about!

**This review first published on July 28, 2009.
See the latest Ginny Owens music videos at Godtube.com!