Ginny Owens Steps Beyond the Cliché on "Long Way Home"
Andy Argyrakis

CCM Magazine

2005

16 Nov

COMMENTS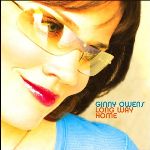 Artist:  Ginny Owens
Title:  "Long Way Home"
Label:  Rocketown
It has been six years since Ginny Owens was signed as the inaugural female artist to the Michael W. Smith-founded Rocketown Records, and she sure has stayed busy throughout that time period. Rather than coasting off only a project or two, the singer/songwriter/pianist is incredibly prolific and inventive, constantly exploring new avenues and reconfiguring her selections on the road. Whether scoring slots on the Lilith Fair tour and Sundance Film Festival in support of 1999's "Without Condition" or recording "Live From New Orleans" earlier this year, Owens continues to interject variety into her compositions, yet ties all that ingenuity around her tinkling of the ivories.
That trademark characteristic is a selling point on the new "Long Way Home," as is the lyric writing, which once again steps beyond cliché to deliver heartfelt observations. Take, for instance, the collision of organic, acoustic instrumentation with the glow of an organ throughout "Waiting for Tomorrow." The tune talks about being content living out each and every moment to its fullest rather than rushing through life. The title track adopts a jazzy feel (akin to Norah Jones) as Owens sings of perseverance on the rocky road of faith. The ethereal ballad "Wonderful Wonder" is reminiscent of something Tori Amos might record but takes a deeply rooted spiritual approach, offering up praise to our Creator.
Even better is the glowing majesty of "Let the Silence Speak," a wake-up call for listeners to take a breather from life's hectic schedule and make time to listen to God's voice. It's a theme that segues perfectly into the worshipful glow of "I Bring Everything," a track about complete surrender and utmost awe of the Lord's radiance. The soulful "Live Once" bridges the concepts of carpe diem and adoration, encouraging all to live for the Lord each day and make Him the center of our existence.
Such satisfying suggestions, coupled with Owens' sonic strengths, make "Long Way Home" the latest in a worthwhile catalogue that's likely to challenge and support all who cross its path.

© 2005 CCM Magazine.  All rights reserved.  Used with permission.   Click here to subscribe.