Girl Rock Done Right on Barrettsmith's Debut
Andy Argyrakis

CMCentral.com

2008

25 Aug

COMMENTS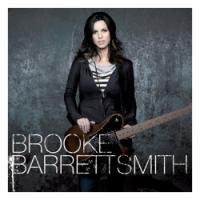 Artist: Brooke Barrettsmith
Title: Brooke Barrettsmith
Label: Essential Records
In an age of female rocker clones who've either idolized Avril Lavigne or Kelly Clarkson, it's refreshing to find a singer/songwriter/guitarist who really plugs in with power, while putting her own introspective pen to paper.
Enter Brooke Barrettsmith, the Chicago-based string slinger whose grandmothers were Broadway and opera singers respectively, with a father who played the Windy City blues scene alongside the legendary likes of B.B. King and Buddy Guy.
That vast musical heritage shines throughout the razor sharp riffs of "Right Now" (which could be likened to Liz Phair fronting Daughtry), along with the feisty "More Real," loaded with lyrical transparency that seeks to blast away insecurities through full reliance on the Lord. The rollicking alt-rock romp "OK" serves as an anti-anxiety elixir, which contains even more authenticity from the fact that the singer struggled with the issue throughout her teen years.
Though she doesn't act like she has all the answers now in her 20s, Barrettsmith is especially assertive, serving as an empowering example for young women, concurrently connecting with any guy searching for some female fronted ferocity.
"Breakthrough" is the best example of that faith-based liberation, bathed in pleading vocals and the balance between emotive instrumentation and fully wound guitar charges. All in all, it's an exceptional debut from an intelligent song sculptor, capable of meeting listeners from various walks of life, amidst confirming that some girls can really rock.
© 2008 CMCentral.com. All rights reserved. Used with permission.




Visit CMCentral.com now and join the single largest online community of Christian music fans on the internet. CMCentral features daily music news, exclusive interviews, album reviews, weekly devotions and feature articles written by some of your favorite Christian artists, and much more. CMCentral is also the home of the most popular Forum for Christian music fans that you'll find anywhere on the Internet. Come see what all the buzz is about!

**This review first published on August 25, 2008