Glory Reveals a Classic Take on Modern Worship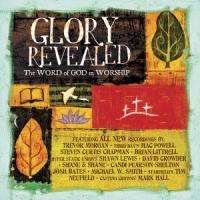 Artist: Various
Title: Glory Revealed: The Word of God in Worship
Label: Reunion
Multi-artist worship projects are certainly not new to this scene, but in Glory Revealed: The Word of God in Worship, producer and contributor Mac Powell (Third Day) accomplishes something both unique and classic in Christian music. It is unique in that it walks away from the pop production elements and aesthetics most modern worship projects rely on and in that the lyrics are lifted straight from the Scriptures—word for word. It is classic in that, stylistically, it is remarkably reminiscent of the earliest contemporary "Jesus music" from the late '60s and early '70s in terms of style and delivery.
Layered vocals, almost exclusively acoustic instruments and sweet, folk-pop melodies recall the best moments of classic bands such as Love Song, The Imperials, Maranatha! and even elements of '70s-era Bill Gaither Trio. With vocals up front and only modest musical interludes, Glory Revealed is a step back in time, but not quite as far back as bluegrass or country territory as passersby might think.
Though billed as "Americana" by the label, in the case of Glory Revealed, we hear pop-folk song arrangements dressed down with acoustic guitars, mandolin, banjo and dobro, but not authentic country or roots music, really. The title track, for instance, utilizes "Americana" instruments (including some transcendent fiddle), but vocalist Candi Pearson-Shelton (Passion Worship Band, Overflow) delivers a straight-ahead pop vocal that would sound fine with a MercyMe or Casting Crowns arrangement. The same is true of Michael W. Smith's "Come Worship the King" and the fist single "By His Wounds," which features former Backstreet Boy Brian Littrell, Casting Crowns' Mark Hall, Steven Curtis Chapman and Powell. That's not to say the songs are not good; they are excellent in fact. It's just that authentic country music goes beyond instrumentation and into arrangements. There's just not enough twang on here to call it country. For some fans that will be good news. Others will wish Powell had taken it a bit farther south.
The sola Scriptura approach is a fabulously effective choice for a project like this. The understated production (Powell knows a good bit about great tone.) allows room for and seems to even encourage the listener to join in once he or she knows the part. All told, this is certainly an excellent collection of new worship songs with classic roots both musically and lyrically.


© 2007 CCM Magazine. All rights reserved. Used with permission. Click here to subscribe.