Go Deeper with Hearts of Saints' For All of Us
Tim Laitinen

Crosswalk.com Contributing Writer

2013

30 Jan

COMMENTS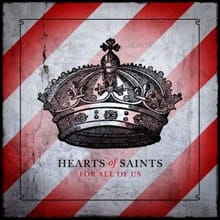 Artist: Hearts of Saints
Album: For All of Us
Label: BMI
Purchase the new CD by Hearts of Saints, For All of Us, and you'll get a multi-purpose set of discs that express two concurrent objectives for this three-year-old band.
Distinguished as the "rock disc" and the "worship disc," Hearts of Saints has categorized their offerings for us between music that can appeal both to believers and those we're trying to evangelize, and believers who want a deeper worship with lyrics incorporating Biblical themes, often complete with references to passages the band used as their inspiration.
While most of the songs on both discs offer little variety in terms of distinctive aesthetics, and the vocals are unsophisticated, the words are understandable both on the rock and worship discs, and that goes a long way to confirming the message Hearts of Saints wants to convey. It's all very slick and professional, but the medium doesn't obscure the message. If you like your rock mild-to-hard, you won't be disappointed, and you're still going to hear the lyrics.
Fortunately, the lyrics are mostly worth hearing. Listeners of a reformed perspective won't embrace some of the theology as enthusiastically as others, but then, even the band itself admits on its website that their audience consists primarily of teens whose focus is anything but systematic theology. Some of the tracks, like "You're Alive" and "Wait," seem to speak directly to modern adolescents grappling with significant life choices. Meanwhile, "Attraction, Distraction" takes direct aim at the false promises made by artificial relationships perpetrated by the likes of Facebook and Twitter.
And kudos to Michael Farren, producer of the album's worship CD, for digging into the Old Testament's obscure book of Lamentations, of all places, and gleaning the message behind "Your Great Love," which serves as a sort of postlude to the rock anthem, "Merciful God."
Indeed, the worship CD displays a more mature side of Hearts of Saints, almost as if their producers figured parents would grab it first and give the rock one to their kids.
Except that, considering the entertainment options kids have at their disposal today, they'd probably benefit from the musical exegesis of the worship CD's scriptural references as much as anybody.
It's For All of Us, after all!
*This Review First Published 1/30/2013