God's Glory the Focus on "Collide"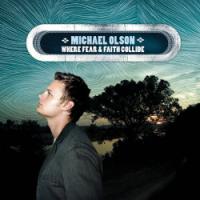 Artist: Michael Olson
Title: "Where Fear and Faith Collide"
Label: Rocketown
In a world dominated by science, solutions and security, faith doesn't make sense. On his latest album, "Where Fear and Faith Collide," Michael Olson takes on a universal dilemma: how to have faith in a fallen world. The album craftily prepares the heart to fight this faith battle with songs that peel our selfish eyes off of ourselves and onto the glory of God.
In "God Is With Us" Olson sings about the glory of God's creation, "In the autumn leaves, in the summer sky … I see signs that He lives." "On the Third Day" proclaims the glory of God's grace: "In suffering from whence we go, the greatest act of sovereign grace … displayed." And in "Everywhere," Olson rejoices in the glory of God's presence that is "more present than the air." These lyrics, which focus on the unfathomable glory of God, shadow and trivialize the unexplainable trials that threaten our faith.
But the powerful and resounding message rests too comfortably in a familiar pop/rock vibe. Instrumentally, the sound limits and overpowers a voice that seems it could effortlessly shake symphony halls and shatter stained glass. Vocally, Olson's clear, rich tone will lift any weary and wounded soul to stand and try faith again. It is in the ballads that the purity and talent of his voice shines, such as in "Our First Love" and "Drawing Near."
Listeners will relate to Olson's desperate fears, yet receive hope to believe in a God who sees with eternal eyes.



© 2007 CCM Magazine. All rights reserved. Used with permission. Click here to subscribe.