Good Music Is Made with These Friends of Mine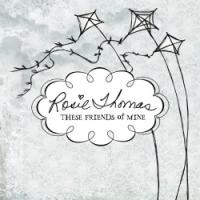 Artist: Rosie Thomas
Title: These Friends of Mine
Label: Nettwerk
In her own quiet and sincere way, singer/songwriter Rosie Thomas is putting her mark on the music scene with her most recent release, These Friends of Mine.
From the beautiful melodies, to Thomas' sweet falsetto voice, to the sparse acoustic arrangements, every piece of the album works together to create a peaceful listening experience, as she invites you into her living room to listen in on her and her friends doing what they do best—playing music together.
Thomas' comrades were a vital part of every aspect of this album. A far cry from the normal hustle and bustle of a recording studio, she invited longtime pals Sufjan Stevens and Denison Witmer to join her as she wrote and recorded many songs in kitchens or bedrooms. The result is raw and includes outtakes of comments and laughter among friends, all of which add to Thomas' unique sound.
The title track captures the essence of the album. "Much Farther to Go" and "New York City" pay homage to her favorite place. Covers of "Songbird," "Paper Doll" and "The One I Love" shine with her personal touch. "Kite Song" expresses her desire to fly away from the weighty issues surrounding us.
These Friends of Mine reminds listeners of a group of friends passing the guitar around. It is the simple, yet beautiful, combination of good friends making good music.




© 2007 CCM Magazine. All rights reserved. Used with permission. Click here to try a free issue.