Gospelalphamegafunkyboogiediscomusic - Music Review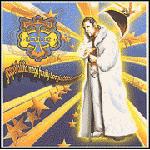 Artist:     T-Bone
Label:    Flicker Records
Hip-hop veteran T-Bone delivers what just may go down as one of the genre's all-time fun albums.  It oozes with a "let's get down and boogie" type attitude from beginning to end.
Legendary mainstream emcee KRS-One drops through to join T-Bone on the rhythmic, Parliament/Funkadelic-flavored title track.
The tune "Our History" finds T-Bone using his "in yo face," confrontational style to hammer home a message to today's emcees, warning them not to forget the hip-hop pioneers who encountered much drama while paving the way for them.
Longtime friend Mista Grimm teams up with T-Bone to discuss the joys of the hip-hop culture phenomenon of low riding on the funk-filled track, "Dippin."
Through gospelalphamegafunkyboogiediscomusic, T-Bone shows that ministry can be high-energy, fun and funky.
Used by permission.  CCM Magazine © 2002  Click here to subscribe.