Grant's Christmas Collection a Definitive Compilation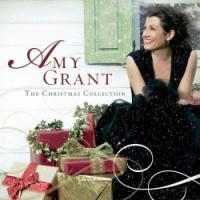 Artist: Amy Grant
Title: The Christmas Collection
Label: Sparrow Records
A surprising must-buy collection from the Christmas music queen …
Amy Grant knows Christmas. After all she has been recording and performing holiday music for 25 years, the equivalent of a lifetime (albeit a young one).
Over the course of three holiday records (one Gold, one Platinum and one triple Platinum!), her voice has become synonymous with the Christmas season—not only in gospel music but also in the broader scheme of American music.
Selecting 14 of her favorite tracks from her popular holiday catalog and recording four new ones, Amy releases her fourth seasonal CD, The Christmas Collection, a surprisingly cohesive anthology. Sequenced smoothly alongside her older gems, Amy pairs up with longtime producer and friend Brown Bannister (MercyMe, Steven Curtis Chapman) to record the new cuts, rounding out the substantial 18-song set.
"Jingle Bells," a la Barbra Streisand, opens the disc, introducing this theatrical arrangement to a new generation, while "Count Your Blessings" (from Bing Crosby's White Christmas) adds a sentimental vintage pick to her already extensive list of recorded classics.
But on the top of every Amy-lover's wish list is a couple of Christmas originals, and Grant does not disappoint. Enlisting her husband/country superstar Vince Gill as co-writer and guitarist, Amy croons on the vintage "Baby, It's Christmas." And "I Need a Silent Night" enlists the penmanship of "Breath of Heaven" co-writer Chris Eaton on a contemporary contribution that includes a tender Scripture reading by Grant's 7-year-old daughter Corrina Gill.
As uneasy as fans might be about another "best of" from Grant, The Christmas Collection is a truly definitive compilation. Thoughtful sequencing, new packaging and liner notes and sensitive mastering create a seamless archive of songs that now sound even fresher than the originals.
Forget dusting off the old records and cassettes. Purchase a copy of The Christmas Collection. The best memories are all right here.


© 2008 CMCentral.com. All rights reserved. Used with permission.




Visit CMCentral.com now and join the single largest online community of Christian music fans on the internet. CMCentral features daily music news, exclusive interviews, album reviews, weekly devotions and feature articles written by some of your favorite Christian artists, and much more. CMCentral is also the home of the most popular Forum for Christian music fans that you'll find anywhere on the Internet. Come see what all the buzz is about!

**This review first published on December 4, 2008.


To listen to Christmas music for free and anytime you want, please click here to choose from Crosswalk Radio's Christmas channels.